Shimla: Horticulture Minister Mahender Singh Thakur said that the state government was implementing Rs. 1134 crore Horticulture Development project to strengthen the economy of the farmers and horticulturists of the state.
The project would be implemented over a time period of seven years and the main focus was on enhancing the quality and production of apple up to 15 to 25 percent, providing better marketing facility and to bringing 50 percent apple crop under A category.
The Minister, in review meeting of Horticulture Development project, said the state government has imported 7,55,250 apple plants from Italy costing Rs. 400 plant each but Chief Minister has decided to give relief to the apple producers by giving 50 percent subsidy on these plants and would be provided at a rate of Rs. 200 per plant.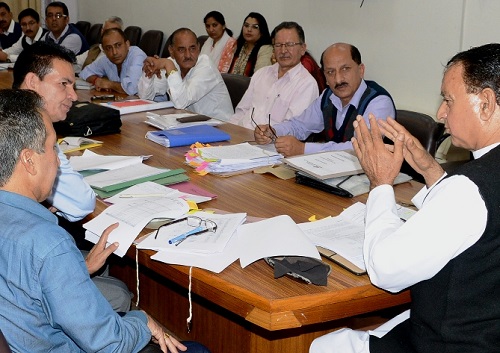 He directed the officers to speed up the work on this project and detailed project reports should be finalised at the earliest besides completing all other formalities. He also directed the department for re-audit of the entire project and preparing a proposal to remove the condition of ten acre cluster for plantation as it was not practical according to the geographical conditions of the state.
The Minister directed to prepare clusters for distribution of the imported apple plants and ensure proper irrigation facility for which a provision of Rs. 328 crore has been made separately. He said that matter be taken up with the World Bank at the earliest for setting up of centre of excellence of the horticulture departments at Shilaroo and Palampur.
While reviewing the works of HPMC, he said that Rs. 202 crore were being spent on upgradation of cold storages and packing houses in the state. He said Rs. 44.90 crore were being spent on Gumma, Tikkar, Khuddi, Rohru and Patalikuhal cold storages. He approved Rs. 27.60 crore for upgradation and repair of Parwanoo and Rs. 15.46 crore for Jadol centres of the HPMC.
Principal Secretary Sanjay Gupta, GM HPMC Surender Maltu, Director Horticulture ML Dhiman, Project Director SS Verma and other senior officers of the Horticulture departemtn, HPMC attended the meeting.