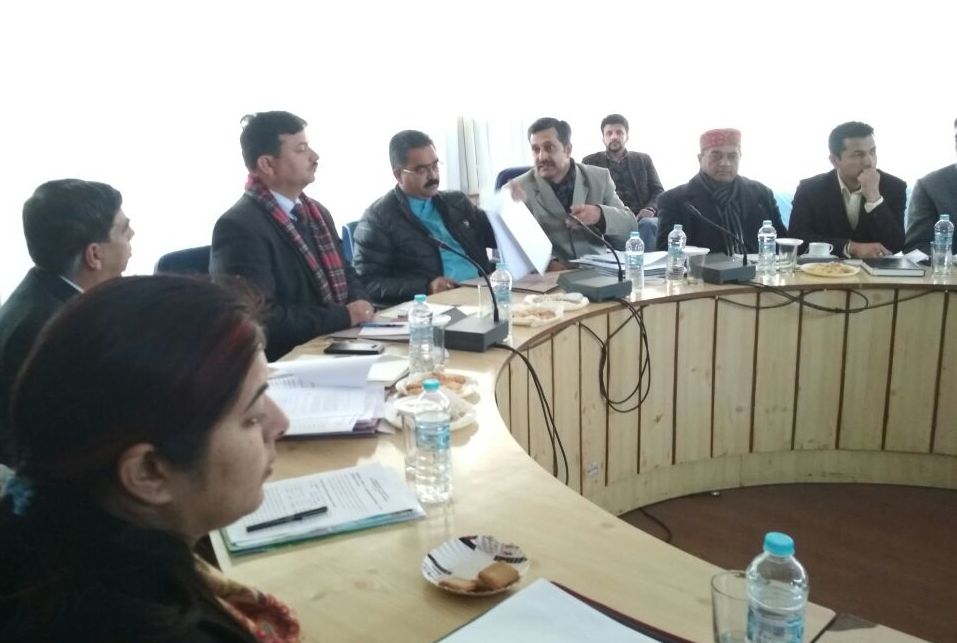 Shimla: Industries Minister Bikram Singh asked the officers of the State Industries Department to prepare a 'Road map' or 'Target Document' for 100 days to make Himachal Pradesh an 'Industrial Hub' of the country in real spirit, for which they should work with missionary zeal.
The Industries Minister, in a meeting of the State Industries Department at 'Udhyog Bhawan', the Directorate of the Department here today, asked Department to come up with innovative ideas to make Himachal Pradesh a favourite destination for investors.
Bikram Singh said that Start-up Himachal, a major initiative of the Union Government needs to be publicized widely so that more and more youth could derive benefit from the scheme. He said that focus should be laid on effective implementation of 'ease of doing business' so that investors does not face hardship in getting various clearances to setup their units in the State. He expressed pleasure that the State ranks seventh in ease of doing business, but the ranking must be improved and Himachal should be the top ranking State in ease of doing business.
Industries Minister said that various Central schemes should be implemented in right perspective. He said that the Department must ensure that at least 80 per cent employments in up-coming industrial units in the State were provided to the Himachali youth. He said that Prime Minister Employment Generation Programme should also be effectively implemented. He said that land should be identified for setting up of new industrial areas in the State, so that land was readily available for the entrepreneurs. He also stressed upon promoting Khadi and Sericulture, as both sectors have immense potential for employment generation.
Bikram Singh said that work on State of the Art Industrial Areas at Pandoga in Una district and Kandrauri in Kangra district would be expedited. He said that more such industrial areas would be developed in the State.
Rural Industrialization Policy for uniform industrialization
Industries Minister stated that a 'New Industrial Policy' focusing 'Rural Industrialization' would be formulated for uniform industrialization in the State. He said that the Department should ensure online and time bound clearances of investment proposals. He said that clearances under Section 118 for setting of new industries should also be taken up as special cases.
Industries Minister Bikram Singh said that effective measures required to be taken for curbing the menace of illegal mining in the State. He said that this not only results in environmental degradation, but also causes loss of revenue to the State exchequer. He said that the Mining Officers should ensure regular inspection and a special flying squad be constituted to check illegal mining. He said that mining sites and quarries should be auctioned in a transparent manner.
Director Industries Rajesh Sharma, earlier, welcomed the Minister and detailed various activities of the Department. He also gave a presentation on the functioning of the different wings of the Department.
Additional Director Industries Anupam Kashayap, Principal Advisor Industries Rajinder Chauhan, State Geologist Rajneesh Sharma, CEO Khadi Board Sanjay Sanjta, and other senior officers of the Department were present at the meeting.