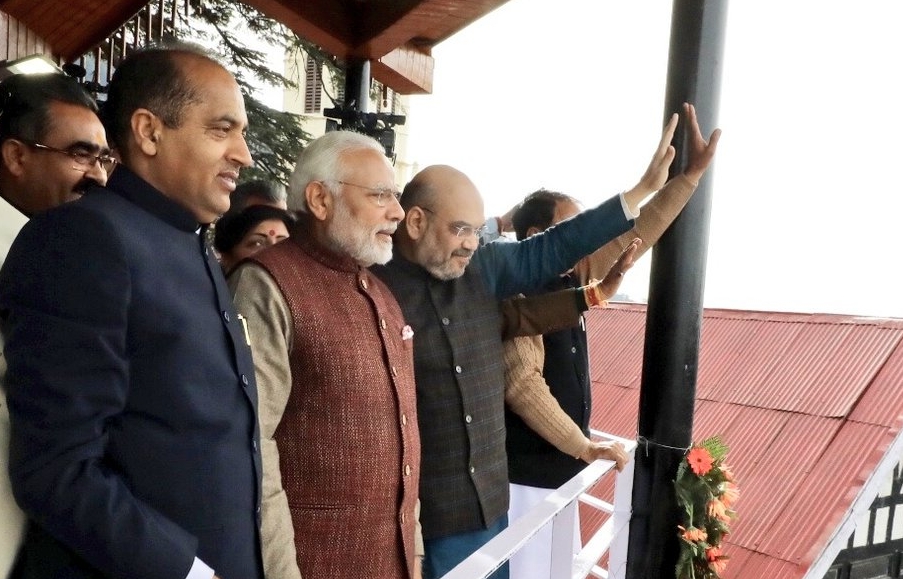 The 52-year-old five-times Member of Legislature from Seraj constituency, Jairam Thakur, today swore in as the 13th Chief Minister of Himachal Pradesh. The oath ceremony that was organized on the Shimla Ridge Maidan witnessed the presence of Bhartiya Janata Party's big guns including the Prime Minister Narendra Modi and party-supremo Amit Shah.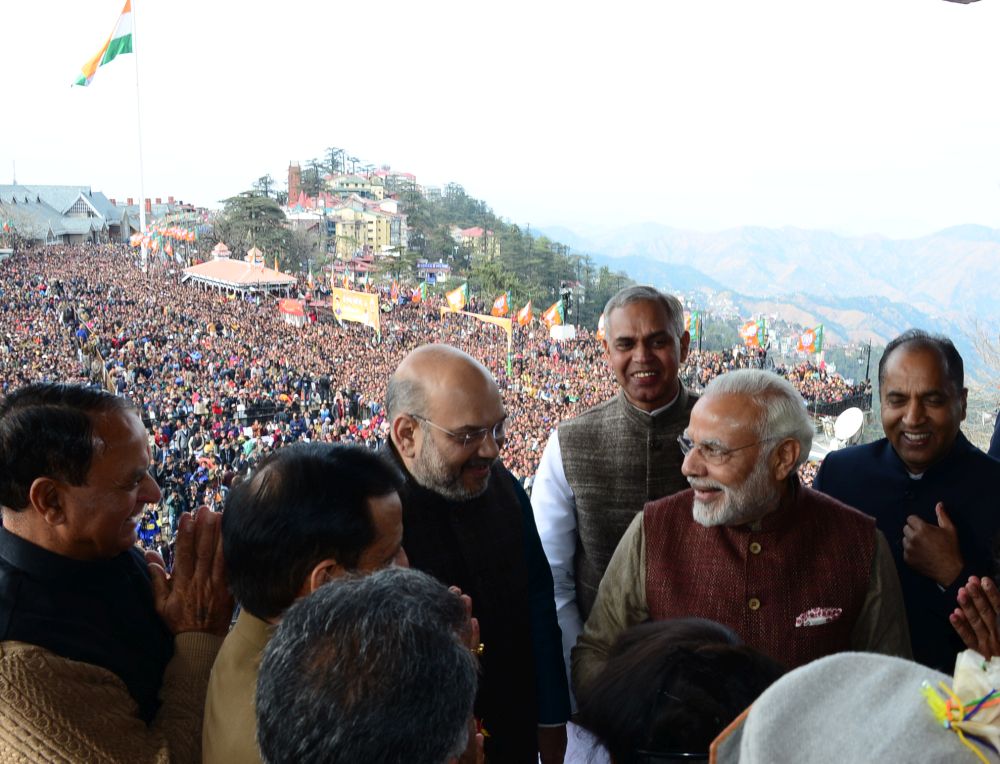 Other than that, UP Chief Minister, Adityanath Yogi, Rajnath, veteran leader L.K. Advani, Nitin Gadkari, Manohar Lal Khattar, Devendra Fadanvis and Sarbanand Sonowal also attended the ceremony.
The suspense over the new members of the cabinet also ended as 12 ministers were also administered the oath to the office. The ratio of first time faces in the cabinet increased as senior leaders like Rajiv Bindal and Narendra Bragta could not qualify Jairam's list.

The new Cabinet includes Mahender Singh Thakur (Dharampur),Suresh Bhardwaj (Shimla-urban), Anil Sharma (Mandi), Sarveen Chaudhari (Shahpur), Ramlal Markanda (Lahaul and Spiti), Vipin Parmar (Sullah), Virender Kanwar – (Kutlehar) Vikram Singh, Rajiv Sahjal (Kasauli), and Kishan Kapoor (Dharamshala).
Rajiv Bindal (Nahan) was nominated as the Speak of the house while the nomination of Deputy speaks was still awaited.
The oath was administered by the Himachal Pradesh's Government, Acharya Devvrat.
PM Modi later congratulated Jairam on Twitter.
Congratulations to Jairam Thakur and all those who took oath today. I am confident this team will work tirelessly and serve the people of Himachal Pradesh with exceptional diligence,
he said in his Tweet.
The grand ceremony was held under tight security arrangements and witnessed the presence of thousands of BJP supporters.
In Shimla, relished coffee at the Indian Coffee House and reminisced old days. The coffee tastes as good as it did two decades ago, when I would frequent Himachal for party work. pic.twitter.com/XOYzlpLc43

— Narendra Modi (@narendramodi) December 27, 2017
PM Modi later halted in front of the Indian Coffee House and enjoyed a cup of coffee to revive old memories associated with the place.
It was the first time in the history of the Himachal that a PM attended the swearing-in ceremony of a Chief Minister.
#WATCH Crowd chants 'Modi, Modi' as PM Modi leaves from Shimla after taking part in oath taking ceremony #HimachalPradesh pic.twitter.com/4AZHWCtGBC

— ANI (@ANI) December 27, 2017