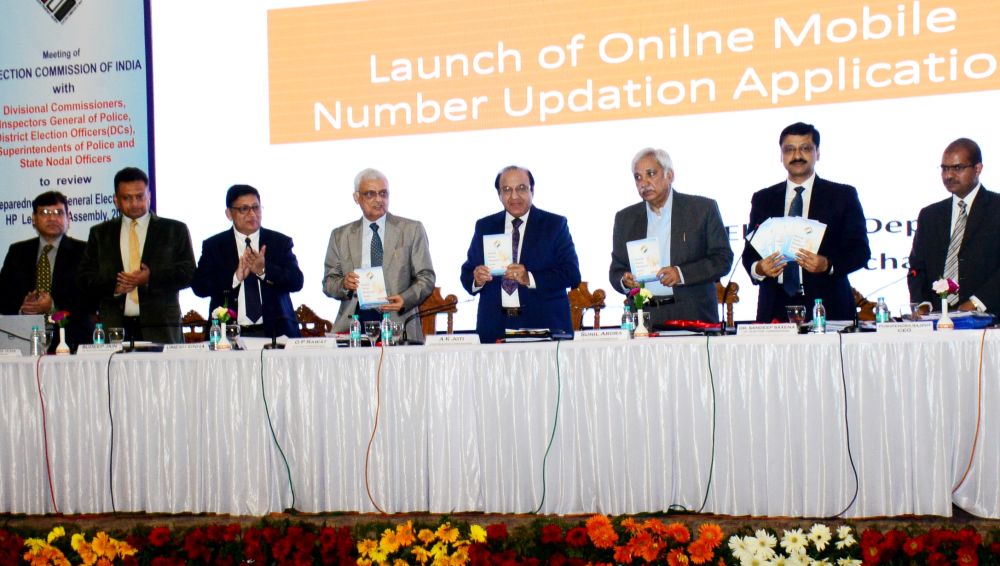 Shimla: In order to ensure transparency, accessibility, coordination and better management for conduct of various functions of Himachal Elections 2017, the Election Department has prepared a set of new IT software applications to be used in the ensuing elections.
Chief Elections Commission AK Joti along with other members of Commission launched these Apps at Peterhoff today. Himachal Electoral Atlas is an App that gives details of important geographic locations of the state including polling stations locations, details of polling stations, routes and other important features of the area.
Himachal Elections Management System is another App to be used for election management in the State, which will have coordination right from Chief Electoral Officer to Returning Officers and polling stations. Alerts can be generated at any level and will be responded within no time.
For the first time, poll duties of police personnel will be randomized through software on the pattern as being done for other polling staff. In addition to this, mobile number updation App will be used to update mobile numbers of households in the state. The link for this App is available on the election commission's website.
Automated reply and missed call facility will be available on number 0177-2620551. Any information regarding election can be obtained by giving miss call to this number. The call will be responded within 30 minutes. GIF App will provide information on functioning of VVPAT.
Chief Electoral Officer Pushpender Rajpoot while welcoming the Commission gave details of various Apps launched in the State. He said that post cards would be delivered to every household in the State to provide election related information to electors.
Earlier, Chief Election Commission of India AK Joti also flagged off Election Awareness Vehicle for district Shimla from Peterhoff today. The vehicle is equipped with E.V.M. VVPAT and other election related material for public awareness. Persons accompanying vehicle will give on the spot information regarding use of VVPAT machines, enrollment of new voters and importance of vote and its role in democracy. One each such vehicle will go around in each constituency of district Shimla as well as in entire state.
Election Commissioners, Om Prakash Rawat and Sunil Arora, Senior Deputy Election Commissioner Umesh Sinha and Deputy Election Commissioners Sandeep Saxena and Sudeep Jain were also present on the occasion.