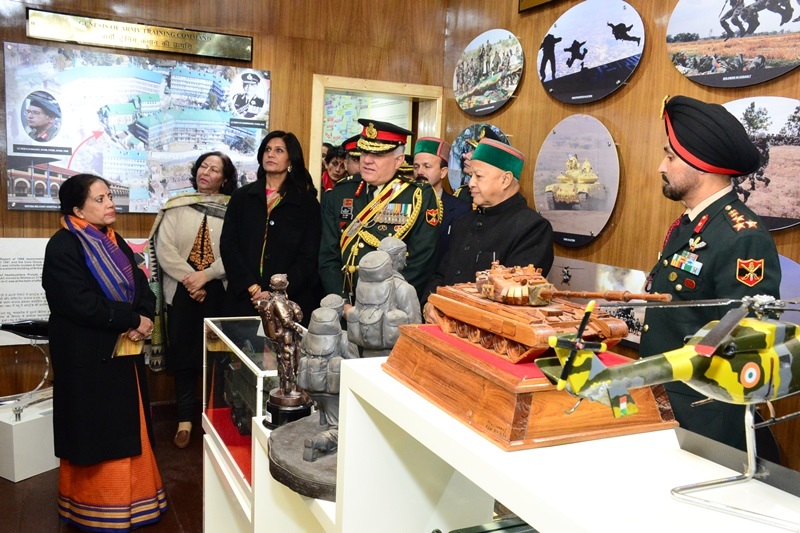 Shimla: Chief Minister Virbhadra Singh, who presided over the inaugural function of Indian Army Section at Himachal Pradesh State Museum today, lauded the role of the Army for creating repository of the Indian Army's rich heritage at the State Museum, including 'Hall of Fame' dedicated to the martyrs.
The Hall of Fame contains the portraits of soldiers who sacrificed their lives for the Nation, names of awardees of Param Vir Chakra of the Country, including other gallantry awardees.
The Hall of Fame showcases the courage and valour of Indian Army and is dedicated to 1948, 1962, 1965, 1971 and1991 wars. It also provides a brief on the fierce battles etc. The enclosures bring out the genesis and evolution of the Indian Army from its formation till date and also treasured the Military Heritage of Shimla covering all important historical events in chronological manner.
Chief Minister said the State Government was setting up a 'War Museum' at Dharamshala and sought assistance from other sections of the Indian Army too, so as to showcase the valour of soldiers of Indian Army and especially those from Himachal Pradesh, who had sacrificed their lives for the Nation in various wars.
He said that the Museum at Dharamshala would contain the name of Martyrs from Himachal who served the Indian Army.
He said that the museum of Army section at Shimla, was also a tribute to the unparallel contribution and sacrifices of the brave people of Himachal in the service of Nation.
Virbhadra Singh said that The 'Indian Army Section' of the museum was aimed to highlight the historical connection of Himachal Pradesh with the Indian Army in particular and Armed Forces in general, so as to motivate the youth of the State to serve the mother land in various capacities.
Earlier, GoC-in-C, ARTRAC, Lieutenant General, Dr. Soni welcomed the Chief Minister and briefed about different five sections of the Hall and the reason behind setting up Hall of Fame in the State Museum.
Lt. General Raman Dhawan, Major General Sanjeev Narain and other senior army officers of ARTRAC were present on the occasion.