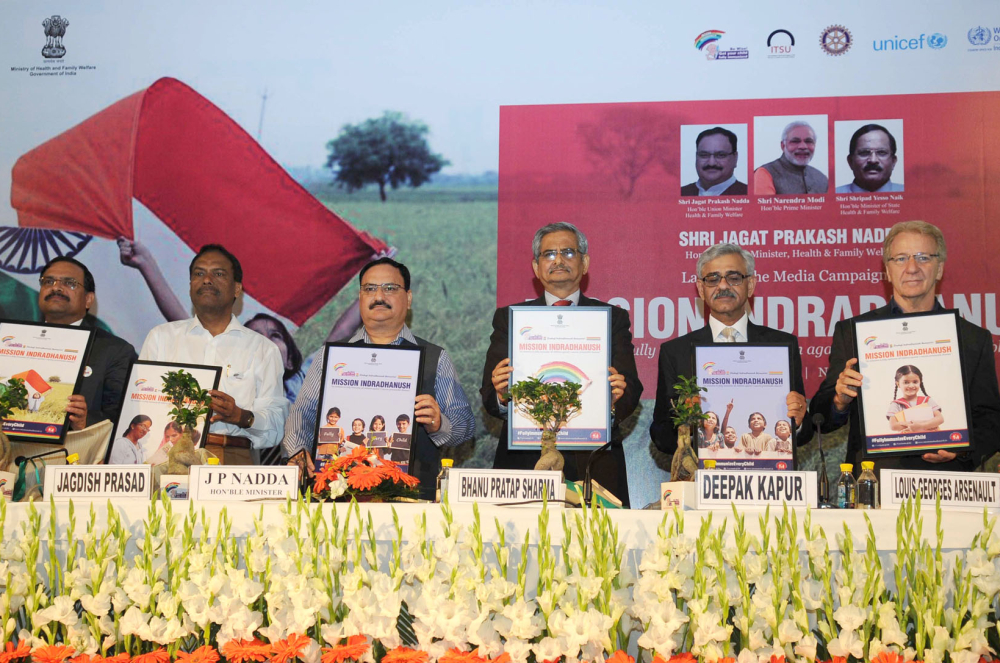 For creating awareness to fully immunize every child against all vaccine preventable diseases in the country, the Minister for Health & Family Welfare JP Nadda has sought support of various stakeholders, including civil society, development partners, states, political leaders and the media.
Speaking at the launch the multi-media campaign of Mission Indradhanush, Nadda said the Mission Indradhanush targeting to cover all unvaccinated or partially vaccinated children by 2020 against seven vaccine of diphtheria, whooping cough, tetanus, polio, tuberculosis, measles and hepatitis B.
The Union Health Minister stated that the micro plans developed to make the Mission mode successful will draw on the lessons learned from the Polio eradication towards systems strengthening, vaccine cold chain management, regular surveillance and monitoring of the plans to reach each and every left out and uncovered child.
Highlighting the critical importance of a targeted and effective IEC campaign, Nadda stated
studies have revealed that children are left uncovered by the routine immunisation programme either because the parents and guardians are unaware of the drive, or there is some element of apprehension or fear due to vaccination. Both these can be effectively addressed through an awareness campaign which underlines the critical importance of vaccination, and removes any apprehension harboured by the parent or the guardian
Health Secretary Bhanu Pratap Sharma underscored the challenges that face the effective implementation of the Mission.
Louis-Georges Arsenault, UNICEF Representative, India; Dr Nata Menabde, WHO Representative, India; Deepak Kapur, Chairperson, Rotary India National Polio Plus Committee were also present on the occasion.