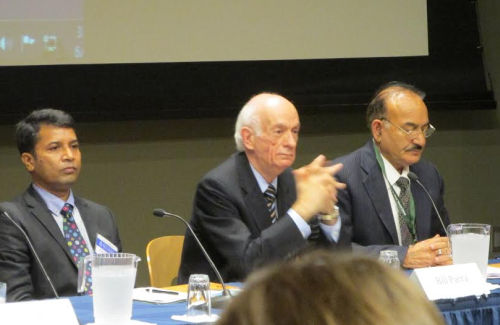 Health and Family Welfare Minister Kaul Singh Thakur said that government would open Generic Medicines Stores in the two existing Medical Colleges in the State on pilot basis and subsequently it would be extended to all zonal hospitals.
Kaul Singh was presiding over the review meeting of Health department regarding National Health Programmes being implemented in the State here today.
Minister said that during last one year many milestones were achieved in the health sector which includes three medical colleges, two tertiary Cancer Care Centres, two mother and child hospitals, and super specialty blocks for both medical colleges at Indira Gandhi Medical College, Shimla and Dr. Rajinder Prasad Medical college, Tanda in Kangra. Thakur said
"The Government would soon launch transport service under Janani–Shishu Suraksha Karyakram (JSSK) as also mobile run medical units in order to provide better health care services to the people residing in far-flung areas of the State by further strengthening 108 ambulance network"
Besides specialized doctors, these Mobile Medical Units would have the Ultrasound facility, and all essential life saving drugs and would hold camps in the rural areas as per schedule.
He said that all the health institutions in the State would be computerized in a phased manner and directed officers to prepare the proposal accordingly. He said that diagnostic services had been professionally strengthened and Rashtriya Swasthya Bima Yojana (RSBY) had been expanded. He said that ASHA workers would also soon be a part of health teams.
Kaul Singh sought 100 percent immunization of expectant mothers and new born in the State. He also directed them to give priority to buildings that were at advanced stages of construction so that these may be completed and be soon operationalised.
The Minister said that Disease Control Programmes and School Health Screening Programmes needs to be made more effective with proper follow up of identified cases.
Additional Chief Secretary, Health Vineet Chaudhary also briefed out the status of various National Health Programmes being implemented in the State. He stressed upon the need for more training to health staff in the State.
Director, Health Services Dr. R.K. Sharma, Mission Director, National Health Mission, CMOs and other senior officers of the department were also present in the meeting.