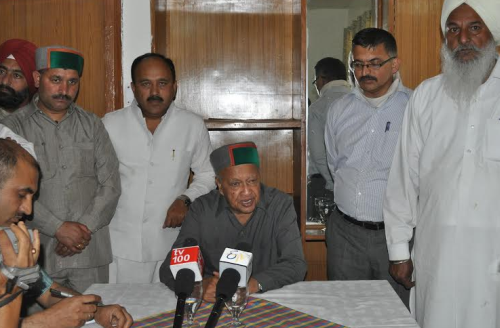 Himachal Pradesh Chief Minister Virbhadra Singh promised to give adequate compensation to the Renuka Dam oustees by the Government.
Singh, while addressing election meetings at Paonta, Kafota and Shillai region of Sirmour district, warned BJP leaders to stop luring the people of handsome return of their land. He said that these leaders were involved in illegal sale and purchase of land and were giving boost to land mafia in the district.
The chief minister urged the people not to play in the hands of such BJP leaders and stay away from their nefarious designs, adding that people should not transfer their power of attorney in name of any known or unknown person.
Chief Minister said that compensation would not be given to those who had vested their land in name of others by transferring power of attorney and if such a case is found strict action will be taken against the defaulters.
Virbhadra Singh said that the Government would not allow corruption of any form as it has adopted zero-tolerance towards corruption and will not let the precious land of Sirmour to be sold to outsiders and the innocent people here to be looted by land mafia being sheltered by BJP.
Virbhadra Singh said that the responsible government was one which protects the rights of its people and their religion, adding that BJP was backing such a candidate for the post of Prime-minister who failed to protect the minorities in his state and the people of Gujarat won't spare him for the riots in his state.
Chief Minister informed that Channelization of Bata River would soon be taken up. He said that BJPs contribution in States development is nil and whatever development had taken place here is just because of congress governments.
He said that nowadays foreseeing the defeat of BJP on all four Lok Sabha seats former chief minister Prem Kumar Dhumal was perplexed and uttering nonsense.
He appealed to the people to vote in favour of the congress candidate Mohan Lal Brakta, who carries a clean image and not like Virendar Kashyap whose report card is nil and has done nothing for the people of Sirmour, besides the Sting operation against him speaks of his honesty.