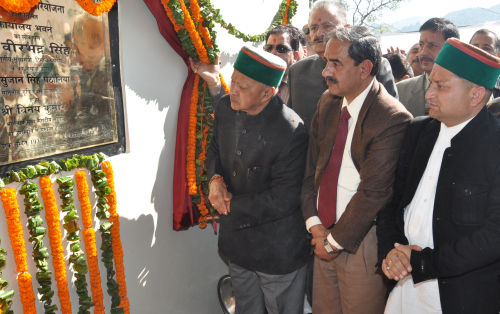 The overall development of Sirmaur district has been given added priority by the Government and various developmental schemes worth crore of rupees are being implemented in the district. Chief Minister Virbhadra Singh stated this while addressing a public meeting at Dadahu in Sirmaur district, today. He dedicated and laid foundation stones of projects amounting to over Rs. 20 crore during his visit to the district.
Chief Minister laid the foundation stone Lift Water Supply Scheme Shirguldhar and group of villages to be constructed at a cost of Rs. 3.23 crore. It will benefit more than 2600 people of 14 villages of Kotla-Bholar, Katah-Sheetla, Beer-Bagad and Panar Panchayats. He inaugurated HPPCL Renuka Dam Office Building constructed at a cost of Rs. 3.47 crore and laid the foundation stone of Rs. seven crore Referral Hospital at Dadahu. He also laid foundation stone of Lift Water Supply Scheme Kando Kansar, Mandhana, Barog Bhaneri to be constructed by spending Rs. 2.84 crore. This scheme will benefit more than 6400 people of 26 habitats of 13 villages of the area. He also dedicated 14 kms. long Khala Kiar-Bandal-Surakh road which has been constructed by spending Rs. four crore.
Virbhadra Singh said that 220 panchayats of the district had been connected with road facility while remaining eight Panchayats would soon get this facility which includes one panchayat each in Nahan and Paonta Sahib, two in Shillai and four Panchayats in Sangrah. Out of total 971 villages of the district 724 had been given road connectivity facility.
He expressed happiness that Sirmaur district was one of the leading districts in implementation of Skill Development Allowance Scheme and more than 3000 youth had been benefited with the Scheme.
Chief Minister said that Rs. 28 crore had been sanctioned for 125 villages of the district having high percentage of scheduled castes and Rs. 16 crore would be spent under Scheduled Castes Sub Plan during this financial year. Rs. 35 crore would be spent in the district during this year for providing drinking water, irrigation facilities and hand pumps and flood control works.
Virbhadra Singh said that 26 drinking water supply schemes amounting to Rs. nine crore had been sanctioned for the district by the present Government. Besides, 114 habitats have been provided with drinking water benefiting 7421 people during this year. Earlier, Chief Minister received Devatas and participated in Shobha Yatra at Government Senior Secondary School, Dadahu.
Irrigation and Public Health Minister Vidya Stokes, Health Minister Kaul Singh Thakur, Agriculture Minister Sujan Singh Pathania, Chief Parliamentary Secretary Vinay Kumar, Deputy Chairman, Planning Board G.R. Musafir, MLA Karnesh Jung, Chairman, HIMFED Ajay Bahadur Singh, former MLA Kush Parmar, Deputy Commissioner Vikas Labroo, SP Sumedha Dwivedi, senior officers and other prominent persons were present on the occasion.