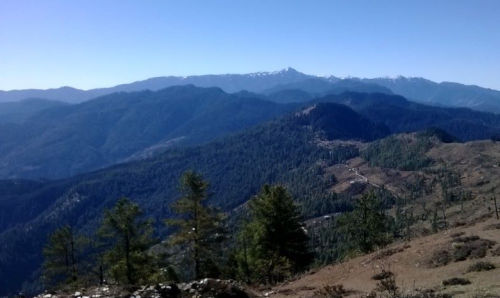 The Himachal Pradesh is bestowed with immense forest wealth. Out of a total geographical area of 55,673 square kilometres, 37,033 square KM area is classified as forests in the state.
The State Government claiming its commitment for the preservation of its forest wealth and has notified the policy of 'Payment of Ecological Services' to encourage peoples' participation and interest of the people towards conservation and a budget allocation of Rs. 437 crore has been made for forest department for financial year 2014-15.
The State Government spending over Rs. 1 lakh crore per annum for its preservation and have implemented many programmes to increase the forest cover of the state along with making Himachal Herbal State of the country.
The State Government has set a target to eradicate Lantana grass from 10,000 hectare of forest land in the year 2014-15 and adopted area specific approach to ensure that once an area is cleared off from Lantana; the same would be maintained as Lantana free zone.
The Himachal Pradesh has immense potential for Herbal plants and to harness it Govt targeting to plant 45 lakh herbal plants of 91 species. Projects worth crores of rupees are being implemented in Kangra, Una, Chamba, Kullu, Sirmour and tribal districts of Lahul-Spiti and Kinnaur for developing herbal plants with the assistance of National Medicine Plant Board. Interception and Awareness Centre has been also established at Sundarnagar in Mandi district for non timber forest produce.
Huge number of people of the state are dependent on the forest for the cooking and house construction, thus with the view to conserve forest wealth, the State Government has amended Timber Distribution Rules
Forest fire is a great scourge for forest wealth and to check it, the State Government has developed Satellite Based Fire Alert System in collaboration with National Remote Sensing Centre, Hyderabad to protect forest from fires. This system would help in providing information regarding forest fires to the concerned Forest Guard and other officials immediately on real time basis through SMS.
State Government would also construct 80 'Van Sarovars' so as to increase the availability and replenishment of water resources in the forests. Efforts are also being made to promote Nature Tourism in a big way and Forest Rest Houses would be developed by the department in collaboration with Tourism Department and HP Forest Corporation.