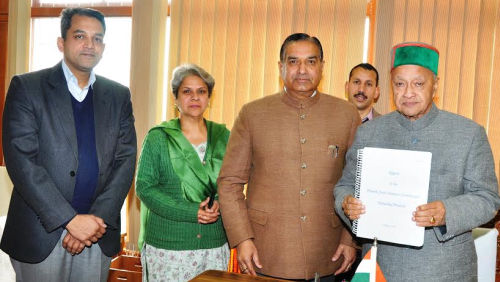 Shimla: Chairman 4th State Finance Commission Kuldeep Kumar submitted the final report of the Commission to Chief Minister Virbhadra Singh here today.
Kuldeep Kumar informed the Chief Minister that the Commission has recommended a grant of Rs. 858.96 crore for the award period i.e. 2012-17, of which Rs. 476.48 crore has been recommended for the Panchayati Raj Institutions (PRIs) and Rs. 382.48 crore for Urban Local Bodies (ULBs). These grants will be utilized by the PRIs and ULBs for meeting out the committed liabilities on revenue account to perform their statutorily assigned and delegated functions and for maintaining the assets transferred to these bodies.
He said that the Commission collected information on the receipts and expenditure and other related issues from the Local Bodies for making recommendations on the above stated issues. It also organises block level meetings with the representatives of PRIs and ULBs for seeking constructive feedback to strengthen the local governance system. He said that the final report of Commission has been based on the actual analysis of income and expenditure of the PRIs and ULBs in the State.
Principal Secretary Rural Development and Panchayati Raj Upma Chaudhary, Special Secretary Finance Dr. Amandeep Garg were present on the occasion.