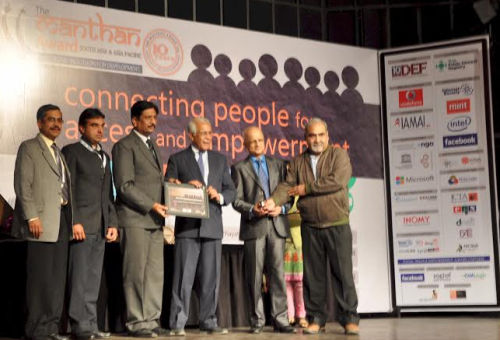 The 'HimBhoomi initiative' (Land Records Computerization of the State) has been awarded the Manthan 2013 Special Mention Award under the eGovernance category in Manthan Awards 2013 (Asia Pacific South Asia). The award ceremony was presided over by Salman Khurshid, Minister of External Affairs at New Delhi.
Spokesperson of the State Government said that all the finalists made their presentations during two day Manthan Awards event, Dr. Saurabh Gupta, State Informatics Officers, NIC Himachal Pradesh made the presentation and based on it, the Manthan Award 2013 Special Mention was given to HimBhoomi initiative.
He said that HimBhoomi initiative developed by NIC, Himachal Pradesh was an integrated solution for the land records, under which services such as registration of deeds, land records, delivery of Jamabandi and Shajra Nasb were being delivered to the people at panchayat level through Citizen Service Centres (Lok Mitra Kendras). It has been a result of massive exercise over the 20 years, started as true replica of existing Record of Rights (RoR), it got integrated with the registration process and thereafter a number of process changes (reforms) have been affected in the recent years, he added.
The Spokesman said that during the process of computerization the Revenue Department has carried out many amendments to simplify and provide value additions to the Record of Rights entries including removing internal fractions (dar-var) while simplifying shares owned by co-sharers, in case of Shajra Nasb, removing the constraint of maintaining record upto last 10 generations maximum, authorizing Citizen Service Centres operators to sign and issue Record of Rights etc.
He said that more than one lakh Record of Rights copies have been taken by citizens in just two months in the State through this system. The HimBhoomi initiative has become very popular among the citizens from digital inclusion point of view, as 88 percent of the population and Lokmitra Kendras were in rural areas, he added.