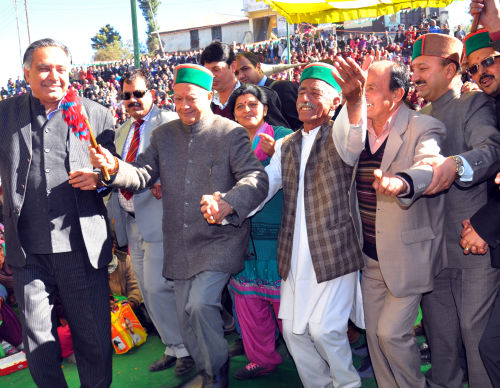 Theog: Chief Minister Virbhadra Singh laid the foundation stone of Bye-Pass Theog to be constructed at a cost of Rs. 45.50 crore. This 2.5 kms by-pass road from Devri Ghat to Prem Ghat would help in de-congestion of heavy traffic in Theog market.
Singh also laid foundation stone of new Hospital Block at Theog to be constructed at a cost of Rs. 25 crore which would have parking facility for 30 vehicles. He also inaugurated new OPD building of Civil Hospital Theog.
Virbhadra Singh laid foundation stone of shopping complex-cum-office block of HRTC at Janog Ghat Theog to be constructed at a cost of Rs. 6.90 crore. Besides 73 shops would also have the parking facility.
Chief Minister also laid foundation stone of four storied Modern Bus Stand of Theog to be constructed at a cost of Rs. 15 crore which would be having Bus Bay for 10 buses, idle parking for buses, car parking, booking counter, waiting room, cloak room and shops etc.
Virbhadra Singh announced to rename Potato Ground, Theog as Jawahar Lal Nehru Ground on the occasion, adding that a statue of Pt. Nehru would also be set up in this ground. He announced district level status to the 'Ekadashi Mela' of Balag in Theog Sub Division.
He also announced to upgrade Tiyali, Nahaul and Dhamandri High Schools to Government Senior Secondary Schools and Palel Primary School in Gram Panchayat Balgar as Government Middle School.
Horticulture and Irrigation & Public Health Minister Vidya Stokes thanked the Chief Minister for solving the long pending demand of bus stand Theog. She also thanked him for laying foundation stones of Bye-Pass, new Hospital Block and Shopping complex Theog. She also thanked him for upgrading schools in her area and said that adequate budget provision has been made for improving roads, electricity, water supply and other development works in Theog constituency. She said that 66 KV Sub Station would be set up at Sandhu to improve the electricity supply of the area.
Transport and Food & Civil Supplies Minister G.S. Bali said that free traveling facility was being provided to the Government school students from home to school and vice-versa in HRTC buses. He said that an ambitious Skill Development Allowance of Rs. 1000 for general and Rs. 1500 for physical handicapped per month was being given to the youth for acquiring skill for two years.
He said that the BPL family would get increased ration from next month and if any ration card holder doesn't get any ration item in particular month he could get the same next month.
MLA Balbir Verma, Chairman HP State Marketing Board Dr. Subhash Manglet, Vice-Chairman HPSIDC Atul Sharma, Chairman Zila Parishad Chandereshver Prasad, Advisor to Chief Minister T.G. Negi, DC Dinesh Malhotra, SP Abhishek Dular, Director Transport Ritesh Chauhan, MD HRTC R.N. Batta, CMO Shimla Dr. R.K. Gupta, Senior Officers and prominent persons of the area were present on the occasion.