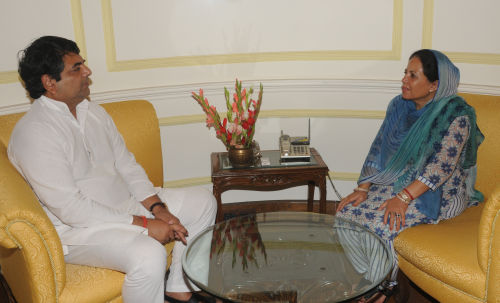 Member of Parliament Pratibha Singh raised a demand with the Centre Government to sanction additional India Reserve Battalion (IRB) for the State. Pratibha Singh raised it with Union Minister of State for Home Ratanjit Pratap Narain Singh and requested him to provide necessary support to the State Government.
She also demanded for setting up of Disaster Response Force units in Shimla, Kangra, Mandi, Chamba, Lahaul Spiti and Sirmour districts of the State to strengthen the State Government in capacity building and provide holistic, co-ordinated and prompt response to all disaster emergencies keeping in view the geographical locations of the State. She also demanded the financial assistance for raising one battalion of National Disaster Response Force (NDRF) for immediate responding to devastation caused by natural calamities and other crisis and offered land and other necessary administrative support for setting up NDRF unit in the State.
Pratibha Singh said that the State falls in seismic zone five and was highly disaster prone adding that natural calamities like cloud burst, flash floods, landslides, forest fires, avalanches were common throughout the State. She requested the Union Minister to provide latest equipments, machinery and training to Himachal Police to meet these challenges, as police is the key agency to perform disaster management duties. She requested the Home Ministry to provide training to State Police personals in different type of rescue techniques, climbing on rock surfaces, tying various types of knots and hitches in different situation, flood relief and rescue management and also requested for providing latest mountaineering tools, equipments, accessories training facilities of mountain search and rescue at Mountaineering Institute Manali.
Pratibha Singh urged for technical, financial and logistic assistance to promote alternative crops in Mid –Himalayan terrains of the State to wean away the farmers from cannabis and opium cultivation. She also demanded to provide modern equipments and training to State Police to address the problem of drug trafficking in the State and requested for providing unmanned aerial vehicles to conduct aerial surveillance of the high mountain areas where cannabis and opium cultivation was done to permanently address the drug trafficking problem in the State.