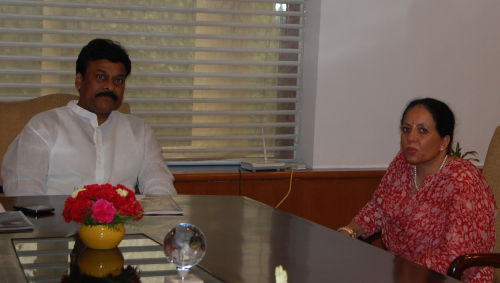 Himachal Pradesh demands 100 crore from centre government to various tourism development projects of the state. Member of Parliament Pratibha Singh proposed it during her meeting with union tourism minister Dr. K. Chiranjeevi at New Delhi.
Congress leader requested him to sanction funds for the Integrated Development of Kullu-Manali Mega Circuit, Integrated Development of International convention Centre and Expo Mart at Kiarighat-Shimla-Barog as Tourist Destination in HP, Integrated Development of Buddhist Destination as a Tourist Circuit in HP, Integrated Development of Una-Nadaun as a Tourist Destination in HP and setting up Institute of Hotel Management Kullu.
She informed that these tourism infrastructure projects would be utilized for creating tourism related facilities like convention centres, tourist reception centres, eco parks, way side amenities, vehicle parking etc in order to facilitate the tourist. She said that it will help to boost the tourism sector in the state and will also promote flow of international tourists in the state. She said that it will help in attracting private sector to create tourism infrastructure in the state.
Pratibha Singh requested the union tourism minister to launch special campaign under incredible India to promote the Himalayan states of the country and also actively associates Himalayan states in all the international conference organized to show case the tourism potential of various regions. She requested him to provide funds for Himalayan states to create world class tourism infrastructural facilities and also promote eco tourism in these areas which have immense scope in religious, adventurous and natural tourism.
Union tourism minister Dr. K. Chiranjeevi said that Himachal Pradesh has grown as important tourist destination in the country and central Govt would provide all logistic, technical and financial assistance to the state to promote tourism sector in the state.