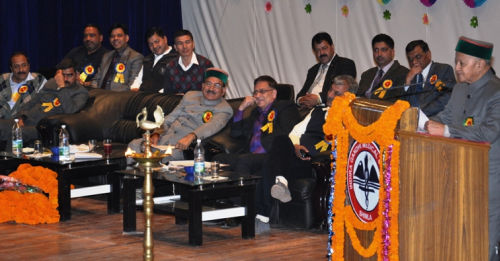 At the occasion of 'INFUSION-2013' annual function of students of B.Sc. Medical Technology of IGMC, Shimla here today; Chief Minister Virbhadra Singh said that a new Multi Storeyed building complex would be constructed in Indira Gandhi Medical College (IGMC), Shimla. He said that facility of free education to the B.Sc. Medical Technology students who were below poverty line and Rs. 3000 monthly stipend to every student would be provided.
Virbhadra Singh said that new complex would be constructed from base of Cart Road to the main building of IGMC having facilities of OPDs, Doctors Rooms, Diagnostic facilities and parking etc. He said that IGMC in Shimla and Tanda Medical College in Kangra district were constructed during tenure of Congress Governments and now they were among the leading institutions in the country. He said that now more construction activities can not be carried out in IGMC due to lack of space but Government would make efforts to construct a residential building for doctors and para medical staff nearby IGMC.
Chief Minister said that Rs. 1. 63 crore had been sanctioned for establishment of Kidney Transplant Unit in IGMC which would be made functional soon adding that with the establishment of this unit, patients requiring kidney transplant would get this facility in IGMC, Shimla within reasonable expenditure and they would not have to go out of State for treatment.
Virbhadra Singh said that Rs. 1.75 crore had also been sanctioned for setting up Lithotripsy facility of Kidney Stone management therapy in IGMC, Shimla which would help the patients in getting their kidney stone management in IGMC, itself. He said that poor and un-attended and accidental Out Door Patients would be provided free CT and MRI facilities in IGMC.
Virbhadra Singh said that Rs. one crore had been sanctioned for Rashtriya Swasthaya Bima Yojna (RSBY) card holders for critical care and Cancer patients. He said that health sector was among the priority areas of State Government and all out efforts were being made to provide better health services in every nook and corner of the State and to achieve this objective, Rs.1187 crore were being spent on Health sector during the current year.
He said that Rs. seven crore had been sanctioned for establishing HDR Brachytherapy System and Linear Accelerator system in Regional Cancer Centre of Indira Gandhi Medical College Shimla for providing state of art cancer diagnostic to the patients.
Virbhadra Singh said that the package of Cancer patients under RSBY had also been increased to Rs. one lakh per patient in a year. This would be in addition to Rs. 30 thousand per card holder in a year, he added.
Chief Minister said that the timing of Registration/Parchi Counters had been rescheduled to 8.00 AM instead of the earlier timing of 9.00 AM with addition of two more registration counters to give quick service to the patients. He said that facility of blood collection at Cancer Hospital had been started to give blood collection facility to these patients in the premises of the Cancer Hospital. He said that free blood collection Vacutainers would be provided to the BPL, RSBY, Cancer and poor patients by the Rogi Kalyan Samitis in IGMC as well as in Cancer Hospital.
Chief Minister appealed to the teachers, doctors and students to work with honesty and dedication so that Himachal could emerge as leading State in health sector in the country.
Health Minister Kaul Singh Thakur said that State Government was giving added priority to the medical education and he thanked the Chief Minister for making 22 percent hike in the budget for health sector. He said that budget for medical education had been increased to Rs. 30 crore from Rs. seven crore. He said that State Government had released Rs. 15 crore to IGMC during last three months for strengthening medical services and a provision of Rs. 10 crore had been made for providing specialized services in the Cancer Hospital.
Health Minister said that State Government would fill up all the vacant posts of doctors adding that 100 posts of doctors would be filled during this year and 100 during next year. He said that honorarium of the doctors appointed by Rogi Kalyan Samitis had been increased to Rs. 40,000 from Rs. 26,000 and honorarium of post graduate doctors had been increased to Rs. 65,000 from Rs. 50,000 appointed in remote and difficult areas. He said that State Government had launched 'Solid Bano India' and weekly Iron and Folic Acid Programme under which iron tablets were being provided to the students of all government schools.
Dr. Jaishree Sharma, Director, Medical Education welcomed the Chief Minister. Vinod Chauhan, Staff Advisor, B.Sc. Nursing –cum- Radiation Safety Officer, IGMC thanked the Chief Minister for accepting the demand of stipend to B.Sc. Medical students and free education to BPL students.
Ajay Mahajan, Sanjay Rattan, MLAs, Harish Janartha, former Deputy Mayor, MC Shimla and Member of Executive Council of H.P. University, Ali Raza Rizvi, Principal Secretary, Health, Dr. S.S. Kaushal, Principal, IGMC, Dr R.P. Luthra, Principal, Dental College, Dr. Ramesh Chand, Senior Medical Superintendent, IGMC, S.S. Jogta, President, IGMC, Employees Association and other senior officers were also present on the occasion.