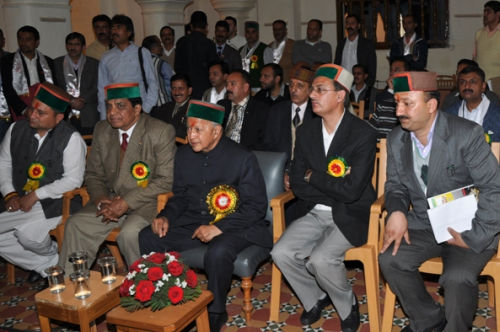 Chief Minister Virbhadra Singh has expressed concern over the rising crime against women and children in the country. He said that though Himachal Pradesh had been safer place where crime rate was low as compared to the other neighbouring States, still there was need to take steps to check crime in the society.
He was speaking on the occasion of presentation of a book titled "KAMO-ASMI" written by Dr. Sanjay Pathak, at Gaiety Theatre in Shimla, last evening.
Virbhadra Singh said that State Government had taken decision to enhance the quota of women Constable and Sub-Inspector from 10 per cent to 20 percent in recruitment in Himachal Police Department. Besides providing more employment opportunities to women, it would also ensure safety to women and children. He said that Women Rapid Action Force was another such measure taken by the Police Department.
Chief Minister said that "Kamo -Asmi" was a novel idea to check the rising crime against the women and children. He said that it was an attempt to explore the spiritual link with the human sexual behavior and spiritual practice.
Chief Minister Virbhadra Singh observed on the guest book – "I congratulate Dr. Sanjay Pathak for publishing yet another book 'Kamo-Asmi'. There have been numerous annotations on the Geeta in the past but Dr. Sanjay Pathak has viewed the human behavior from a new angle, I hope the society will be benefited by this."
Social Justice and Empowerment Minister, Dr. Col. Dhani Ram Shandil observed, "A very informative presentation given by Dr. Sanjay Pathak on his work 'Kamo-Asmi' covering socially meaningful and pure form of human sexual behaviour".
Dr. Sanjay Pathak is a medical graduate from IGMC Shimla who along with his job has been pursuing his passion for creative writing. He said on the occasion that it was an attempt to explore the human existence as body, mind and intellect. As World Health Organisation (WHO) defines health as complete physical, mental and social well being and not merely absence of disease and infirmity, Kamo-Asmi explores the spiritual well being, he added.
Chief Parliamentary Secretary Vinay Kumar, Chopal MLA Balbir Verma, former CPS Harshwardhan Chauhan were present on the occasion among others.