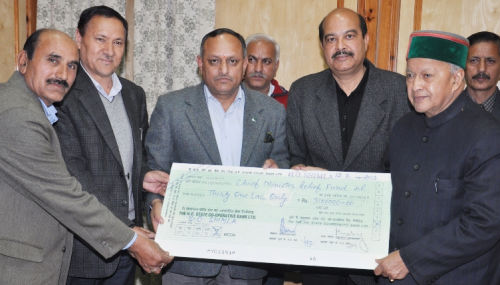 H.P. State Co-operative Bank donated Rs. 31 lakh towards Chief Minister's Relief Fund. Harsh Mahajan, Chairman, Himachal Pradesh State Co-operative Bank presented a cheque of Rs. 31 lakh to the Chief Minister Virbhadra Singh on behalf of H.P. State Co-operative Bank.
Chief Minister expressed his gratitude for this contribution towards noble cause.
Chief Minister also released calendar of H.P. State Co-operative Bank on this occasion. It would be distributed among the customers of the bank, general public and would be displayed in about 200 branches of the bank in the State.
V.C.Pharka, Principal Secretary to Chief Minister, Madan Chauhan, Managing Director, HP State Cooperative Bank, S.S. Negi, General Manager, M.R. Chauhan, Deputy General Manager and other senior officers of the bank were also present on the occasion.