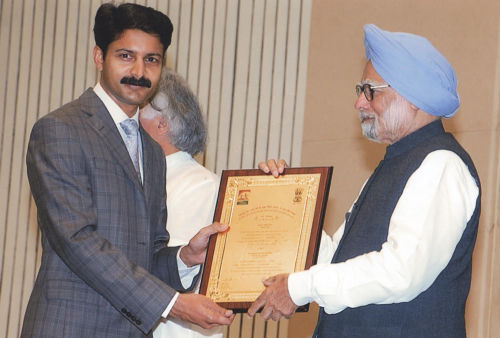 Himachal Pradesh was presented national award in implementation of MGNREGA. Prime Minister Dr Manmohan Singh presented MGNREGA national award to Mandi Deputy Commissioner, Devesh Kumar for maximum participation of women in MGNREGA. About 75% of the work under the MGNREGA in Mandi district was executed through women as against the national average of 48% in the country.
The Tharech Panchayat in Theog Block of Shimla district was also presented the national award for gram panchayats. In Mandi districts so far 93000 Women MGNREGA workers were facilitated to open accounts in Banks who crossed doorsteps of Banks first time through MGNREGA.
An amount of Rs. 75.00 crore was directly transferred to Bank Accounts of women MGNREGA workers. Banking facility helped them to adopt saving habit at safe place. Awareness due to MGNREGA has motivated women to participate in political process which has resulted in increase in their representation from 50% mandatory provision to 58%.
Works to be undertaken under MGNREGA were widely publicized in IEC camps. Women realized importance and utility of works and came forward for participation. Irrigation schemes, land development, connectivity are main source of inspiration for women to participate in MGNREGA. These works are closely related to their daily routine work.