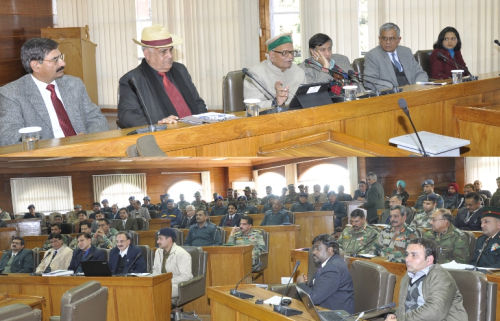 A review meeting of State Committee of National Disaster Management Authority was held here today. Chief Secretary S. Roy and consultants and coordinators from National Disaster Management Authority (NDMA), New Delhi was also present on the occasion amongst officers of the State Government and Government of Haryana. This follows after Tri City Mega Mock Exercise on Earthquake which was organized in Shimla town.
Chief Secretary said that Mock Drill was organised at 15 identified places in Shimla city and efforts were made for ensuring active participation of local people to deal with any eventuality and to take preventive measures in case of earthquake. This Mock exercise would go a long way in awakening the people as how to respond during natural calamities and also the administration for initiating measures for mitigating the disasters and make further arrangements accordingly. Roy said that such programmes would be made regular feature which would help people to better understand safety measures during occurrence of disasters.
P.P. Shrivastva, Member of North East Council of National Disaster Management Authority said that students needed to be sensitized for disaster preparedness by organising safety programmes in the schools. He stressed the need of participation of representatives of Panchayati Raj Institutions and Urban Local Bodies in such awareness activities. He said that local people play a pivotal role for rescue operations during such disasters and they should be prepared and trained by using modern equipments.
Brig. V.K. Khanna, Senior Advisor, National Disaster Management Authority lauded the role of different departments during the Mock Drill. He stressed the need of strengthening communication network so that the relief and rescue works could be carried out in an effective manner.
P.Mitra, Additional Chief Secretary, Shri I.D. Bhandari, DGP, National Observers, Officers of Army and officers of National Disaster Management Force also gave their valuable suggestions.
Dinesh Malhotra, Deputy Commissioner detailed out about the Tri City Mega Mock Exercise and appealed to people to voluntarily take part in such exercises on awareness of diasters. Ms. Nandita Gupta, Special Secretary, Revenue presented vote of thanks.