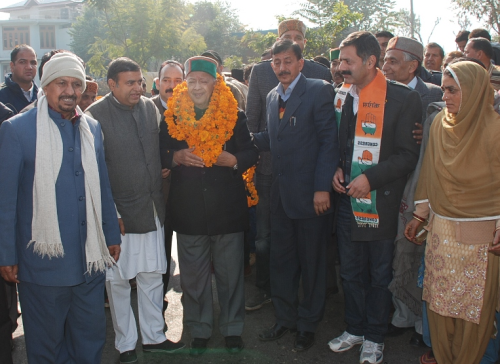 Chief Minister Virbhadra Singh said that balanced and uniform development of the State was the main objective of the Congress Government and adequate funds would be made available for balanced development. Singh was addressing the people who had assembled at Chandpur in Bilaspur district to honour him. He said that the construction work of Beri-Darola bridge would be started soon to facilitate the people of the area. He said that development was a continuous process and equal development of every section of the society was aim of the Congress Government. He said that former Prime Minister Pandit Jawahar Lal Nehru and Smt. Indira Gandhi had played a pivotal role in making Himachal Pradesh a State.
Singh said that ambitious projects such as Bhakra Dam, Maharana Pratap Sagar Dam and Beas Link were constructed by the Congress Government which had provided employment to thousands of local people. He said that construction of Bhakara Dam had led to green revolution in many States and Central Government was implementing many schemes for all round development of the State.
Chief Minister said that during its previous regime, Congress Government had waived off the loans of Bhakara Dam oustees in Bilaspur. He said that two sectors were being constructed to rehabilitate the Oustees.
Earlier, people welcomed the Chief Minister on reaching at Namhol. He was also given rousing reception on reaching at Nauni, Circuit House, Bilaspur, Dakari Chowk, Kandraur and Ghumarwin.
Rajesh Dharmani, Chief Parliamentary Secretary, Bamber Thakur, MLA, Bilaspur, Tilak Raj, Ex MLA, Santosh Dhiman, President, District Congress Committee, Smt. Anita Dhiman, President, District Mahila Congress, Col. Amba Prasad, President, Block Congress Committee, Bilaspur Sadar, senior local Congress leaders, Ritesh Chauhan, Deputy Commissioner and other senior officers were also present on the occasion.