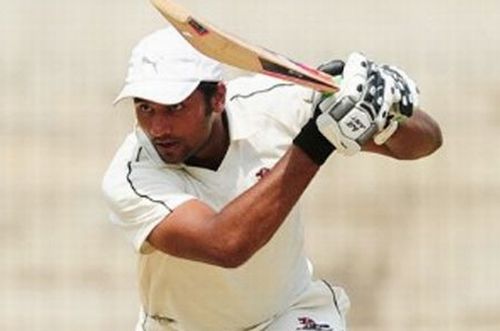 In the Ranji Trophy Group C match, Himachal Cricket player Paras Dogra has slammed double century against touring Services Cricket team. Match is playing at Atal Bihari Vajpayee Stadium, Nadaun, Himachal Pradesh.
In his astonishing inning, Dogra scored 210 in 334 valid deliveries, in which he hit 26 boundaries including 1 six. With his inspiring knock, Himachal declared its inning at staggering 544. Earlier Services team had scored 312 and in their second inning they have lost two important wickets for paltry 46 run.
Services team is trailing by 186 runs and has 8 wickets in hand and to save match they will have to play for whole day, whereas Himachal Cricket team needs its bowlers to take remaining 8 wickets to win this match. Skipper Aakash Chopra scored 65, Prashant Chopra contributes 90 and Amit Kumar added important 91 runs in the scoreboard. With Amit Kumar, Paras Dogra added 210 run for 4th wicket.
Paras Dogra has made his debut in first-class cricket in 2001. He is batting all-rounder and has represented IPL from Rajasthan Royals and Kings XI Punjab. This is his second double century and earlier Dogra had hit double ton against Tripura in Agartala, in November last year.