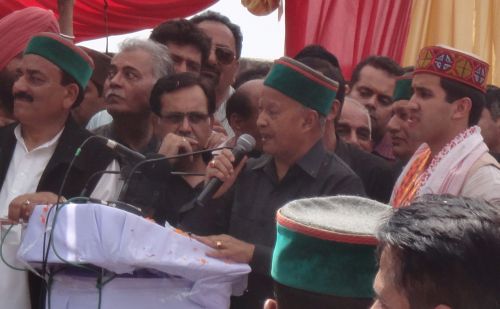 Vikramaditya Singh, son of Congress stalwart Virbhadra Singh criticized Himachal Pradesh government and Chief Minister for not allowing Virbhadra Singh's felicitation ceremony at Ridge Maidan as Ice Skating Ring proved too small to accommodate his supporters. Vikramaditya Singh said
I thank the people of Himachal, who turned out in large numbers to felicitate Shri Virbhadra Singh, on his 50 glorious years in Public life, and making today's historic event a grand success. The refusal to grant permission to hold a non political function at the Ridge Maidan, keeping in mind the shortage of space at the Ice skating rink, while allowing BJP and other cultural functions, shows the shallowness & small mindedness of the Chief Minister.
Virbhadra Singh today completed his 50 glorious years in active politics and in those years he elected record seven times for Himachal Pradesh legislator and five times for Lok Sabha. He remained Chief Minister of Himachal Pradesh for five times and hold ministry of states in 1976-77 for Tourism and Civil Aviation in Indira Gandhi Govt and Minister of State, Industries in 1982-83. In 2009 Lok Sabha election he got elected from Mandi Constituency and deputed Union Cabinet Minister, Steel and later shifted to Union Cabinet Minister, Micro, Small and Medium Enterprises.
Apart from various political distinctions, he also has rare achievement as in 1962 he was youngest parliamentarian of the 3rd Lok Sabha and in 2009 he became senior most parliamentarian years of experience vise as he was the only person in Lok Sabha who entered parliament in 1962 and before.