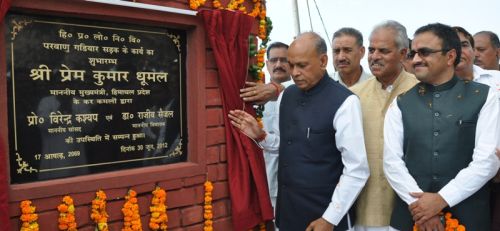 Chief Minister Prem Kumar Dhumal said that the State Government was according priority to road connectivity in every gram panchayat with a view to deliver people benefits of development and brings prosperity in the area. He was addressing public meeting in gram panchayat Banasar, after he dedicated newly constructed Parwanoo-Gadayar road, completed at a cost of Rs. 5.50 crore which would residents of 11 villages of the area.
Chief Minister said that roads were life-line of hill state like Himachal Pradesh where the entire transportation system rested upon roads in the absence of adequate railway and other modes of transportation. He said that target of connecting gram panchayats with motorable road was nearing completion which would be followed by providing connectivity to villages. He said that the panchayats found unfeasible for road connectivity were being connected by constructing paths under Mukhya Mantri Gram Path Yojna. He said that roads help connecting the areas to the outside world and generate income avenues to the people by providing them transportation facilities for marketing their produce. He said that district Solan was known for off-season vegetables and farmers in gram panchayat Banasar would also be benefited by the way of marketing their produce not only to terminal market at Parwanoo but also in neighbouring States.
Prof. Dhumal said that the performance of the BJP Government during past four years had been spectacular since the State Government had not only fulfilled the promises made in the Election Manifesto but had performed beyond that and had launched several schemes as Atal Bijli Bachat Yojna, Atal School Uniform Yojna, Pandit Deen Dayal Kisan Bagwan Samridhi Yojna, Doodh Ganga Yojna. The people were being provided subsidized domestic power and subsidized essential commodities too, which had helped in mellowing down the impact of price rise which had made the life of common man difficult. He said that price control happened to be the central subject and the UPA Government had failed miserably in controlling the prices of essential commodities. He said that Government was spending Rs. 330 crore on subsidizing the essential commodities and domestic power alone while schemes worth over one thousand crore were under implementation which too had subsidy component. He appealed to the rural masses to take benefit of such schemes and try exploring employment and self employment avenues for themselves at their door steps.
Chief Minister said that Solan district had emerged as the prominent industrial district in the State where maximum industrial activities were taking place. He said that industrial activities had revolutionized the economy of the district. He said that farmers of the district were much progressive and had made their mark in production of different varieties of off season vegetables, cash crops, floriculture, fruit and other produce. He said that the district had been rated as the best progressive district in the State for the economic activities taking place. He said that the State Government had paid added attention towards creation of adequate infrastructural facilities for the benefit of the farming community. He said that besides connecting 38 villages with motorable road, 10 NABARD funded projects were also being executed. He said that Kasauli assembly segment alone got 28 kms of new road length, cross drainage on 89 kms of road, mettling on 55 kms besides constructing four new bridges and 10 buildings. He said that the demand for up-gradation of Government High School, Dagshai to Senior Secondary School would be considered on priority.
Virender Kashyap, MP, thanked the Chief Minister, for his visit to the district and dedicating projects worth crores of rupees to the people of the district. He said that the present Government was ensuring uniform and balanced development of the State. Dr. Rajiv Saijal, local MLA, also welcomed the Chief Minister and thanked him for the schemes he dedicated to the people of his segment.
Vinod Chandel, MLA, Satpal Kamboj, former MLA, Meera Mohanty, Deputy Commissioner, H.Bist, Superintendent of Police, other senior officers and prominent people of the area were present on the occasion.