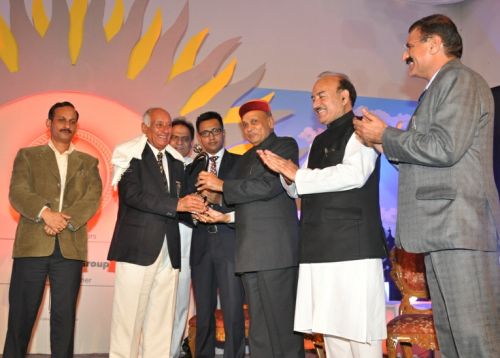 Chief Minister Prem Kumar Dhumal conferred 'Zee Himachal Shikhar Samman' for lifetime achievement at a function organised by the Zee TV here last evening. Prominent amongst the award winner was former Olympian Hockey Gold Medallist and Arjuna Awardee Charanjit Singh, from Una, for his outstanding achievement in earning laurels to the country in general and Himachal Pradesh, in particular.
Others who were conferred awards for their outstanding contribution in their respective fields are Nisha Devi wife of martyr Roshan Lal, of district Chamba for the supreme sacrifice her husband had made while fighting terrorists in Srinagar; Jamuna Devi of district Mandi, a street vegetable vendor for educating her children and making one of them pass out from Indian Military Academy, Dehradun, Rani Devi, of village Sainthal, in Jogindernagar of district Mandi, a paraplegia patient, for fighting with odds of life bravely, Mukesh of Sundernagar, an HIV positive victim, for successfully recovering from the dreaded disease and educating people about the same, Hari Datt Sharma of Manvi village in district Sirmour, a handicapped teacher who had been teaching with his feet and carrying daily routine works as well; Fula Devi Chandel, renowned 'Ghat Dancer' from district Bilaspur for promotion of traditional culture of the State Internationally, Pushpa Thakur, of Nohangi village of district Hamirpur for excelling in athletics at National level, Karnail Rana, a renowned folk singer for promoting traditional folk culture of the State. Tourism department for 'Har Gaon Ki Kahani', S.Roy, Chief Secretary and Dr. Arun Sharma, Director received the award on behalf of the tourism department.
Satpal Singh Satti, President, State BJP, Kaul Singh Thakur, President, Himachal Pradesh Congress Committee, S.Roy, Chief Secretary, Dr. A.D.N.Bajpai, Vice Chancellor, Himachal Pradesh University also gave awards to some of the winners.
P.K. Dhumal congratulated the winners and Zee network for spotting some unsung heroes. He thanked Zee TV Network for organizing its first Samman Samaroh in Shimla. He said that Himachal Pradesh was proud to have such talents who had shown a way to the society by their outstanding contribution.
Chief Minister said that Himachal Pradesh was proud that first Param Vir Chakra (PVC) recipient Major Som Nath Sharma belonged to Palampur district Kangra. He said that out of four, two PVCs were awarded to Capt. Vikram Batra (posthumously) and Hav. Sanjay Kumar during 'Operation Vijay' in Kargil, and both of them belonged to Himachal Pradesh. He said that largest number of 52 martyrs from Himachal Pradesh attained martyrdom during the Kargil Operation. He said that he had personally visited the families of each of the martyrs to pay his condolences besides providing employment and other incentives to the families of those who lost their lives in Kargil Operation while safeguarding the National boundaries. He said that the State was committed to protect the interests of the families of martyrs, ex-servicemen and families of serving soldiers by extending them all possible help.
Barun Dass, Chief Executive Officer, ZEE TV Network, welcomed the Chief Minister, and said that they have selected the role models for giving awards so as to inspire the society to do well. Ravinder Ravi, IPH Minister, Dr. Rajiv Bindal, Health Minister, Sarveen Chaudhary, SJ&E Minister, Jai Ram Thakur, Rural Development and Panchayati Raj Minister, Lt. Gen. Rajesh Kochhar, Chief of Staff, ARTRAC, MLA's, Chairmen and Vice Chairmen of various Boards and Corporations, and prominent persons were present on the occasion.