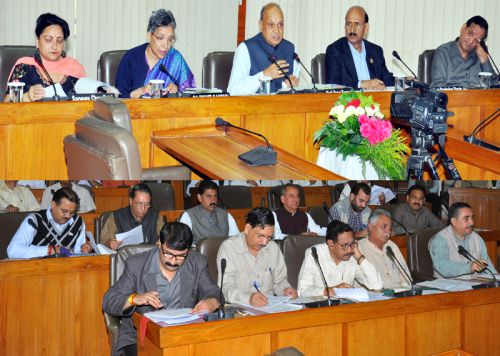 Chief Minister said that road, education, health, self-employment, self sufficiency and self respect had been accorded priority by the Government and added that during 12th five year plan, the endeavour of the Government would be to strengthen these sectors further so as to yield better results in the larger interest of the people of the State. This was revealed by him while initiating discussion on plan priorities for the 12th five year plan and midterm appraisal of the Annual Plan 2011-12 with MLAs of Kangra and Kullu districts here today.
Chief Minister said that emerging unemployment problem due to recession had not only posed challenge to this country but also to the developed and developing countries and need of the hour was to solve it by creating employment and self employment opportunities. He said that to solve it the Government has directed all departments to make plans of skill development for unemployed so that they could get employment in the industrial units that were coming up in the State.
Prem Kumar Dhumal said that self employment had also been accorded priority by the Government. He said that Pt. Deen Dyal Upadhayay Kisan Bagwan Samridhi Yojna, Agriculture Diversification Scheme, Mukhya Mantri Arogya Pashudhan Scheme, Doodh Ganga Scheme, Apple Rejuvenation Scheme and Tourism Development Scheme started by the present State Government was a step in this direction. Unemployed youth would get employment at their door steps by adopting these schemes, he added.
Emphasizing the need for infrastructure development in the education sector so as to expand it, Chief Minister said that Govt. of India had stressed for public-private partnership in the Draft Approach Paper of the 12th Five Year Plan for it to achieve the desired results as it will not be possible for the Government to invest the required amount. He said that the State Government had already adopted it so as to make Himachal Pradesh an Educational Hub and ensuring that youth get quality professional and technical education at their doorsteps.
Chief Minister stressing the need for resource generation urged the MLAs to give their suggestions so that development in the State could be accelerated and State achieved the objective of self-sufficiency and self dependence besides generating employment opportunities to the youth.
Chief Minister said that Departments could also consider outsourcing for making Detail Project Reports (DPRS) so that the work could be taken in hand at the earliest.
Prem Kumar Dhumal said that Government would intensify its efforts to construct new roads besides there maintenance to avoid any inconvenience to the people. He said that the long spell of rainy and winter seasons was the main reason for not so good condition of the roads. He said that widening work had been taken up on various important roads in the State which would go a long way in reducing the journey time and ensuring smooth traveling when completed. He said that endeavours of the Government would be to keep these roads also in such a condition that the commuters face least inconvenience.
Chief Minister said that the midterm appraisal of the Annual Plan had been taken up by his Government after many years so as to ensure that the priorities of MLAs were implemented in the right perspective and MLAs apprised impediments in implementing priorities, if any. Chief Minister while discussions expressed concern over indiscriminate mining downstream from Pong Dam in river Beas which had resulted in collapse of bridges and directed the Mining Department to ensure that there was no unscientific and indiscriminate mining taking place otherwise action would be taken against erring officers and officials.
Chief Minister also directed the Agriculture Department and experts of the Himachal Pradesh Agriculture University for ensuring proper functioning of the Poly Houses in the State so as to ensure that there was no loss to the farmers.
Rajwant Sandhu, Chief Secretary welcoming the Chief Minister and others said that the administration had always accorded special attention for the priorities of the MLAs so as to implement these in a time bound manner. She said that the mid term appraisal would go a long way in achieving this objective.Ravinder Singh Ravi, Irrigation & Public Health Minister, Shri Kishan Kapoor, Industries Minister, Smt. Sarveen Chaudhary Social Justice and Empowerment Minister and Director General of Police Dr. D.S. Manhas, Additional Chief Secretaries, Pr. Secretaries, Secretaries, Heads of the Department and other senior officers participated in the meeting.
Kangra district
Rakesh Pathania, MLA, Nurpur thanked for re-notification of Suniari hospital which had met the genuine demand of the people and envisioning Fina Singh Irrigation Project to benefit the farmers of the area which would revolutionise the farm sector in the area. Des Raj, MLA, Gangath urged for repair and maintenance of roads, construct ITI building, PHC buildings, open PWD division in the segment. Sujan Singh Pathania, MLA Jwali lauded Pandit Deen Dayal Kisan Baagwan Samridhi Yojna revolutionizing the farm sector with diversified and cash crop cultivation in poly houses. He urged upgradation of Nurpur hospital to cater to the specialized medical services requirements and check unscientific mining in the area. Nikhil Rajour, MLA Jaswan recommended boosting rural tourism to generate employment to youth, check pollution in Terrace industrial area.
Yog Raj, MLA, Pragpur, thanked for approving and sanctioning four DPRs and urged for Bus Stand at Dehra, more bus services in the segment, repair of Government Senior Secondary School, Peer Saloohi, check unscientific mining. Capt. Atma Ram, MLA, Rajgir urged for one time sanction for road projects. He thanked for Rs. 10 crore to construct medium irrigation projects in the segment, sanctioning tubewells. Parveen Sharma, MLA Palampur thanked for convening mid term appraisal meeting to take stock of MLAs priorities. He urged for science classes and blocks in various senior secondary schools, boost tourism activities and early execution of Palampur Ropeway Project.
Vipin Parmar, MLA, Sulah said that 38 km long Kripal Chand kuhl needed to be restored to its original channel and extend facility to 22 more gram panchayats, provide one ambulance under Atal Swasthya Sewa at Bhawarana or Dheera, provide funds for schools besides upgrading many of them. Sanjay Chaudhary, MLA, Kangra thanked for sanctioning three DPRs, two IPH projects and urged funds for early completion of Mini Secretariat at Kangra, repair various school buildings, check erosion by channelization of Manooni and Manjhi khads to save fertile land, complete Kangra Sewerage Scheme and get forest clearances obtained.
Kullu district
Gobind Thakur, MLA, Kullu thanked for Rs. five crore Naggar beautification project and wanted early completion, implement Manali Vision Document on priority, early completion of Rs. 30 crore mega Tourism project, identify new unexplored destinations in the valley. He thanked for getting sanctioned Manali by-pass sanctioned and urged for early implementation, Master Plan for Hadimba temple. Pandit Khimi Ram, MLA Banjar thanked for replacing old electricity poles and completing various DWSS and irrigation schemes, strengthening rural hospitals etc. He urged for completion of on going road and bridge projects. Kishori Lal Sagar, MLA, Ani thanked for envisioning Jalori Pass tunnel project and liberal funds to the area. He wanted deployment of Tehsildar at Nithar, anti hail guns in apple growing areas, funds for ITI building, explore unexplored areas for tourism, improve passage to Neel Kanth Mahadev shrine.