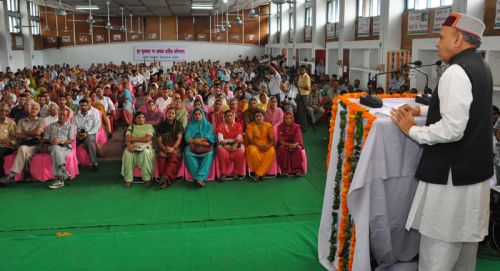 Himachal Pradesh today achieved another milestone in agriculture development when Chief Minister Prem Kumar Dhumal launched 321cr ambitious Himachal Pradesh Crop Diversification Project that is implemented with Japan International Corporation Agency (JICA) assistance from Hamirpur today.
Addressing the farmers on the occasion, Chief Minister said that to explore the possibilities of vegetable production in the State, the Government sought cooperation of JICA, the report of which had been received in February, 2009. He said that possibilities of crop diversification were explored in five districts of the State viz. Kangra, Mandi, Bilaspur, Hamirpur and Una through this report and added that thereafter the project report was formulated and sent to Govt. of India for approval and from where it was sent for JICA for financing in May, 2010 and agreement papers of the report were signed on 1st October, 2010. In February, 2011 the loan agreement papers were signed and in June, 2011 the loan was sanctioned.
Chief Minister said that the project would be implemented for seven years from 2011 to March, 2018 with Hamirpur its headquarters and the project would be run by the Himachal Pradesh Agriculture Development Society and Chief Minister would be the Chairman of the Project. He said that initially the project would be implemented in Mandi, Kangra, Hamirpur, Bilaspur and Una districts of the State. He said that construction and improvement of irrigation facilities in 3712 hectares of land under 210 schemes would be undertaken under the project. He said that 100 km long 147 link roads would be constructed, 52 minor irrigation schemes executed and 23 collection centres would be set up under the project. He said that farmers group would be formed under 'Krishak Sahyog Karyakaram and added that these groups would be given training for implementation and maintenance of irrigation schemes, vegetables production and marketing etc..
Prof. Dhumal said that the main objective of the project was to promote organic farming, vegetable production and transfer of technology training to the farmers, connect the link road in production areas with main roads and training to agriculture officers etc. He hoped the project would bring crop diversification in agriculture sector and strengthen the economy of the farmers besides providing employment to rural youth. He said that Rs. 353 crore Pandit Deen Dayal Kisan Baagwan Samridhi Yojna was successfully being implemented in the State under which progressive farmers were being assisted to grow off- season vegetables in the State. He said that subsidy upto 90 percent was being given for construction of polyhouse and minor irrigation schemes under the scheme.
He also directed the officers of Agriculture and Horticulture to visit the fields instead of sitting in offices and solve the problems of farmers and horticulturists in the fields. He said that State Government had lifted the ban on felling of khair and bamboo on private land and 393 saw mills had also been re-started. He thanked the ex-servicemen for their whole-hearted cooperation in development process of the State and added that they cooperated significantly in education sector also.
He said that there were 86.4 percent small and marginal farmers in the State and who depended on agriculture. He said that soil of every farmer were being tested and provided soil cards and added that 4.25 lakh farmers were provided the facility so far. He said that farmers taking loans upto 10 lakh for land purchase were not to give any stamp duty.
Chief Minister also urges the farmers of the State to take full benefit of the project and avail facilities under the project at their door step. He also honored the progressive farmers and farmers group for their outstanding achievements with cash money on the occasion.