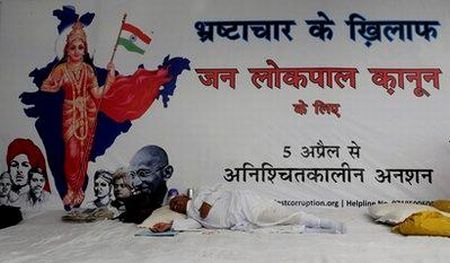 Gandhian Anna Hazare's infinite fast at Jantar Mantar has fetched him a lot of backup from different groups. Be it a common man, politicians or actors a lot of people have raised their voice in support for his fight against corruption.
Shanta Kumar, National Vice President of the BJP and former Chief Minister has come out in the open and is supporting Hazare's efforts. He feels that the Lokpal bill will prove to be an apt method for checking the escalating corruption beaming among politicians. The 72 year old activist is demanding to draft a fresh Jan Lokpal Bill (Citizen's ombudsman Bill) which will offer more power to ombudsman to keep a close check on corruption. He has vowed to cut corruption from its roots and is agitated that the government has been delaying it from quite some time now.
"The BJP supports the movement of Anna Hazare and demands that the government should take steps for implementing the Bill that can help check rampant corruption among those in power in the country," Shanta said.
He said, "Another legislation, Benami Transactions Prohibition Act, 1988, has been awaiting approval of Parliament for the past 22 years. Most of the black money in the country is going into benami land deals. The government should implement the Act to check the flow of black money into benami land transactions."
Sonia Gandhi has requested Anna Hazare to end his fast-unto-death. Actors like Hrithik Roshan, Om Puri, Shabana Azmi, Vishal Bhardawaj to name a few have promised to support him endlessly. Youngsters have come out in the open to support this movement and this has extended till the social networking sites. The young generation is keen on fighting against corruption and is very charged about it.
A lot of sitting MLA's from Congress and ruling party were contacted but none bothered to revert.