New Delhi: Horticulture and IPH Minister Mahender Singh Thakur called on Union Agriculture Minister Radha Mohan Singh at New Delhi today and urged for a funding of Rs. 150 crore for 'Himachal Pushp Kranti Yojna' for next five years besides Rs. 120 crore for various project proposals for the inclusive development of horticulture sector in Himachal Pradesh.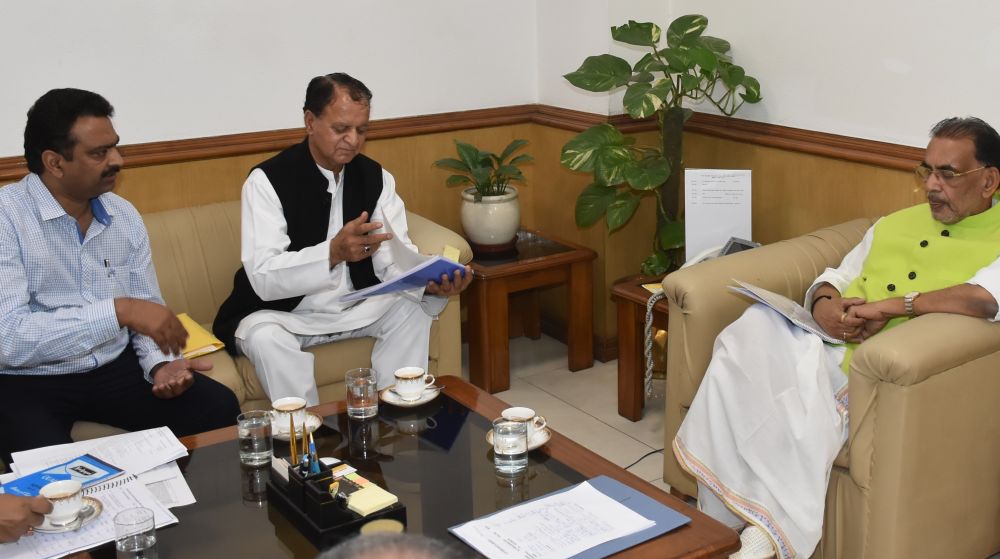 Mahender Singh Thakur said that State Government had conceived Pushp Kranti Yojna project on protected cultivation of flowers to promote the agenda of growth and development aggressively during the next five years.
He apprised the Union Minister that Himachal Pradesh was fast emerging as Flower State due to its congenial agro-climatic conditions for growing different type of flowers round the year under protective covers.
The protective cultivation of flower will not only safe guard the farmers from weather vagaries, monkey menace and protection from wild animals, but also provides ample opportunities for better livelihood for educated unemployed youth of the state, he added.
Mahender Singh Thakur said that Horticulture department had prepared various specific project proposals which include establishment of hail control system in fruit belts of the state for protection of fruit crops from hail storms worth Rs. 23.06 crore under 'Mission for Integrated Development of Horticulture' and another project worth Rs. 60.00 crore for promotion of organic farming in the state for next three years under 'Parampragat Krishi Vikas Yojna'.
He said that a project worth Rs. 15.11 crore under National Bee Board had been prepared for development of beekeeping activities in the state to generate employment avenues to the rural youth. He requested for speedy approval of these projects from the Ministry.
The Minister also demanded release of funds amounting to Rs 60.31 crore for pending liabilities under 'Mission for Integrated Development of Horticulture' for previous years.
The Union Minister assured that all the projects would be considered soon and all possible assistance would be provided.