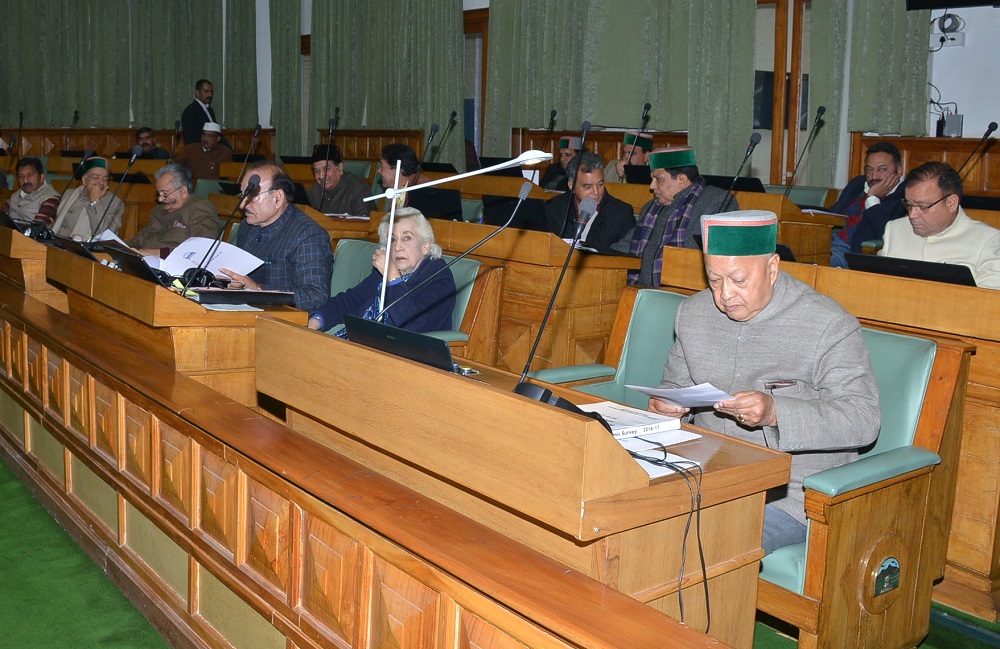 Shimla: Hiamchal Pradesh growth rate is estimated at 6.8 percent, 0.4 percent lower then the Twelfth Plan i.e. 2012-17 – estimated at 7.2 percent.
The Economic Survey 2016-17, presented by the Chief Minister Himachal Pradesh, Virbhadra Singh in Vidhan Sabha today, estimated Per Capita Income at Rs. 1,47,277 for the year 2016-17.
The Survey revealed that GSDP of State at current prices in 2015-16 increased to Rs. 1,13,667 crore from Rs. 1,04,177 crore in 2014-15 and as per advance estimates it is likely to be about Rs. 1,24,570 crore in 2016-17.
Survey read that 2,061 Bank branches are functioning in the State as on 30.09.2016. This has increased by 106 Banks from the previous year. The average population per branch in the State comes to 3,330 against National level of 11,000. The Credit Deposit Ratio of Pradesh is 55.64.
The total revenue of Rs. 4,634.01 crore have been moblised upto December, 2016. The Consumer Price Index for Himachal Pradesh increased by 3.4% in December, 2016.
The state has total 18,26,390 ration card holders and 4,891 fair price shops are providing essential commodities to these card holders.
The Agriculture sector in the State generates about 10% to the total Gross State Domestic Product (GSDP).
The Survey also revelaed the petty picture of harnessing hydel potential of the state as out of the total assessed hydel potential of 27,436 MW, only 10,351 MW could have been harnessed which is 37.73 percent of the total potential.
This Economic Survey has been prepared by Economics and Statistics Department, Himachal Pradesh.