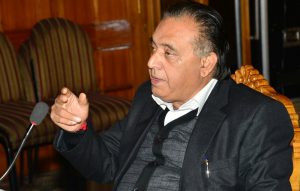 Board of Directors of Himachal Pradesh Road Transport Corporation held a meeting on Thursday that was presided over by the Transport Minister G.S. Bali. A report card of HRTC's achievements was released along with some major announcements. As a gift to MLAs/Ex-MLAs, they were given 12 free travelling in a year in Volvo buses within and outside the State.
The Board of Directors has given approval to enhance the wages of TMPAs and wages of contractual drivers. For TMPAs, it has been increased from Rs. 4000 plus one and halft percent commission to Rs. 5500 plus one percent commission on local rural routes and half percent commission on long routes.
For the contractual drivers, an increase in wages from Rs. 7200 to Rs. 7700 with increment of Rs. 100 every year after has also been approved in the meeting.
The information was provided by the Transport Minister of Himachal Pradesh, G.S. Bali, in a statement released on Thursday. The minister also listed his achievements, recruitment, benefits to employees, number of purchased buses, ongoing process for the purchase of more buses, and future plans of the corporation. The minister said that the profit during the financial year has also increased by Rs. 54.64 crore. The statement also includes numbers of buses purchased that has made HRTC the youngest fleet. He also informed that since the formation of this government, 2380 people have been employed in the corporation.
Other important achievement that this statement featured included introduction of zero-emission electric buses in Himachal. The Himachal Pradesh, he said, will be first State in India to introduce 25 Nos Electric Buses which will be piled on beginning on Manali-Rohtang routes. The purchase order will be issued within a week, he said.
It was informed that during the current financial year upto January, 2017, the revenue of the Coporation has increased from Rs. 521.81 crore to Rs. 76.4 crore.
HRRC has achieved and maintained all time best KMPL of 2.72, he said.
The minister claimed that Wi-Fi has been installed on 19 buses stands and the remaining bus stands will be covered under facility very soon.
Regarding the fleet of buses in State , he said that recently 255 Nos (37-seater buses) and 115 Nos(47-seaters) ordinary buses have been introduced in the fleet.. After the formation of Government, we have added 1685 new buses in the Corporation and now have youngest fleet in all the State Transport Undertakings, he claimed.
The Corporation has introduced 77 Nos New Super Luxury buses during the tenure of the current government. These buses are plying from Shimla, Manali, Jogindernagar, Palampur, Baijnath, Hamirpur, Dharamsala, Chintpurni, Jawalajee, Chamba, Nurpur, Pathankot to Delhi, Haridwar and Chandigarh and generating good revenue for the Corporation, he said.
About luxury bus services, he informed that with a view to provide small luxury buses to people of the Pradesh the corporation has started such buses from Dharamsala, Manali and Shimla to Chandigarh and from Manali and Dharamshala to Shimla. He further added that all district Head Quarters will be connected with capital with such buses within two months so that people may avoid use of personal vehicles.
The government also increased the scheduling of HRTC buses from 2018 buses (2012-13) to 3000 buses at present.. The process to purchase 30 Nos Deluxe buses have been completed and on arrival, these buses will be operated at slightly higher fare than the ordinary buses on long routes, he informed.
In addition, the BoD has approved purchase of 30 min buses for Shimla town and requested the State Government to provide funds for purchase of buses.
From the date of formation of this Government till 2015-2016, benefits (i.g. Medical, OTA, Gratuity, Leave en-cashment, pay arrear and uniform) amounting to Rs. 460 crore have been given.
During the current financial year i.e. year 2016-17, benefits amounting to Rs. 180 corer have been given to HRTC employees and pensioners.
He also mentioned that till date, since the formation of this government, the Coproration has provided employment to 2382 person ( including 337 Nos under Kith and Kin Policy) of the State and regularized 2080 person.
He also informed that the work for the construction of Rs. 25 crore modern bus stand and multistory parking at Chintpurni has been also awarded under PPP mode.
The BoD also approved a increase in the concession period from 30 years to 40 years. Now, the Corporation seek approval of the government.
He also informed that after construction, bus stands at Sangle and Mandi have been inaugurated. Bus Stands at Chamba has been completed and Rohru is at completion stage.
Rajiv Thalli Yojana has been started at Una and Bilaspur. He said the scheme It will start very soon at Nahan, Nagrota -Bhagwan, Palampur, Chamba and Mandi. He said that award letters have been issued for the same. Under this scheme, people will get food at the cost of Rs. 2 per Thalli ( two roti, rice, dal, sabzi) at these locations very shortly.
Bank ATMs have been installed at 8 bus stands and on the remaining bus stands, it will be installed very shortly, he said.
He also announced that Rs. 5.00 Corer will be spend on upgrading work of Driver Training Schools at Jassuar, Kullu, Mandi, Bilaspur and Taradevi.