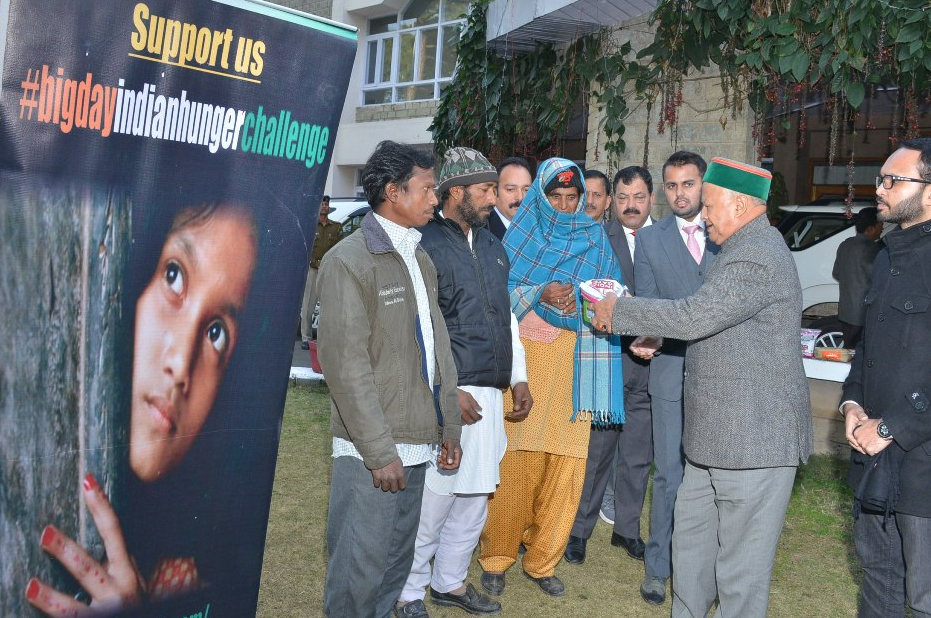 Dharamshala: In a bid to support the cause 'Big Day-Indian Hunger Challenge', an effort to reach out to the underprivileged and feed them, Chief Minister Virbhadra Singh extends solidarity towards the cause and distributed food packages to the needy at circuit house in Dharamshala, today.
The Chief Minister appreciated the mission and stressed that the technology can play very important role to bring together the society for strengthening the social cause.
Gaurav Goyal, promoter of the cause, thanked Chief Minister for supporting the initiative and he believes that it'll inspire more and more people to stop food wastage.
Information and Technology Advisor to the Chief Minister, Gokul Butail was also present on the occasion.
Anyone can take part in this noble cause and interested participant just need to feed a needy mouth and Click a Selfie or Get clicked and tag it as #bigdayindianhungerchallenge and further nominate friends, 'A Thumbs down to the one who don't take up the challenge within 24 hours' and A Medal for the Contender who feeds a hungry stomach.
'Big Day-Indian Hunger Challenge' team will also publish winning faces on its facebook page, which already has over 1 lakh subscribers.
With a slogan of Lets feed INDIA together, the 'Big Day-Indian Hunger Challenge' has already got support from many noted personality from sports, politics, social service and films.
From Himachal Pradesh veteran leader and former Chief Minister and Union Minister Shanta Kumar participated in it.