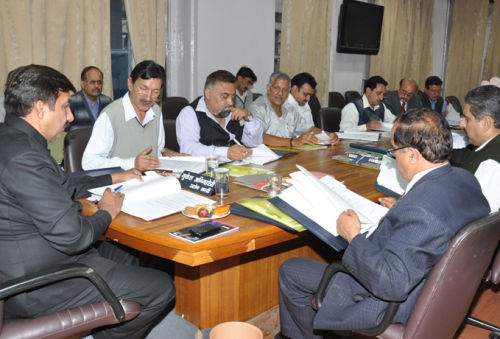 Industries Minister Mukesh Agnihotri in the Meeting of Board of Directors of Himachal Pradesh Khadi and Village Industries observed that the Khadi Board had been instrumental in generating sustainable employment to a large segment of traditional and prospective artisans and rural and urban unemployed youth in the State, still it was an irony that the financial condition of State Khadi and Village Industries Board was a matter of concern.
Agnihotri said that the State Government would take up the matter of bailing out the Khadi Board from financial losses with the Government of India. He said that it had been the endeavour of the Board to bring together widely dispersed traditional artisans in rural areas and provide them self-employment opportunities.
Kailash Chand Gaur, Chief Executive Officer of HP State Village and Khadi Industries Board, welcomed the Minister. Non-official directors of the BOD also gave their valuable suggestions.
Dr P.C. Kapoor Additional Chief Secretary, Industries, Mohan Chauhan, Director Industries, Rajesh Sharma Special Secretary Finance were present in the meeting among others.