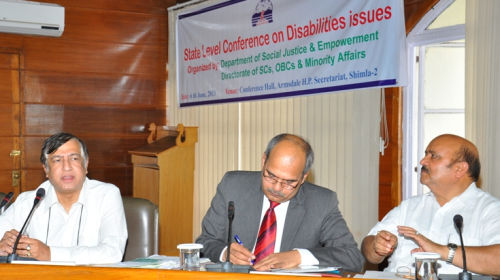 In the 'State level Conference on Disabilities Issues' organised by Department of Social Justice & Empowerment and Directorate of SCs, OBCs & Minority Affairs, Chief Secretary Sudripta Roy urged the Government and Non-Governmental Organizations to provide physical and mental barrier free environment for persons with disabilities for overall growth and development of society.
Sudripta Roy said that State Government was providing assistance to voluntary organizations to make available the whole range of services necessary for rehabilitation of persons with disabilities including early intervention, development of daily living skills, education and skill development oriented towards employability, training and awareness generation.
Chief Secretary said that Government of India (GoI) had prepared a draft bill for persons with disabilities and the State Government had suggested for incorporating a clear and reliable method for assessment of multiple disabilities and using universal identity cards to all the persons having 40 percent or more disability besides other suggestions.
P.C. Dhiman, Principal Secretary, Social Justice and Empowerment stressed on the need for special focus for persons with disabilities. He said that efforts would be made to ensure the participation of children with disabilities in all the important functions.
Madhu Bala Sharma, Director, Women and Child Development Department said that steps were being taken for promoting physical, social and psychological rehabilitation of persons with disabilities. Nandita Gupta, Director, SCs, OBCs and Minority Affairs also spoke on the occasion. Delegates of various NGOs and Institutions gave their valuable suggestions during the conference. M.P. Sood, Special Secretary, Social Justice and Empowerment and other senior officers of the Central and State Government were present on the occasion.