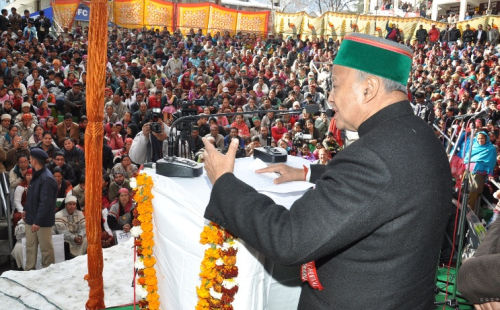 Chief Minister Virbhadra Singh inaugurated prestigious National Manali Winter Carnival at "Manu Kala Kendra" at Manali today. While addressing the gathering, Singh exhorted the people of the State to help in preserving rich cultural heritage and life style of the State.
Chief Minister said that Himachal Pradesh was universally acclaimed for its diverse culture and rich heritage. He said that unity in diversity was our strength and it should be preserved at all cost. He said that first Prime Minister of India Pt. Jawahar Lal Nehru regularly visited Manali and had special place in his heart for Himachal Pradesh and its people.
Virbhadra Singh said that he has visited every village and hamlet of Manali since it was the part of Mandi Parliamentary Constituency. He said that since its inception Himachal Pradesh has made tremendous efforts in various fields, but still more has to be done. He said that education, road, power and industry was the top most priority of the State Government, since they were directly related to common man and has potential to make the State self reliant.
Chief Minister said that State Government would create all necessary infrastructure to make Himachal Pradesh developed State within next five years. He said that the new Government was working with new enthusiasm and was committed to take Himachal Pradesh to new heights. He said that Himachal Pradesh was basically a rural State where majority of population lives in villages. He said that the State Government was laying special stress on development of the villages.
Govind Thakur, local MLA and Chief Patron National Manali Winter Carnival while welcoming the Chief Minister said that the State has widely benefited from long experience of over 50 years of Virbhadra Singh.
He urged the Chief Minister to implement the vision document prepared by Delhi School of Planning and Architect for development of Manali town. He also urged the Chief Minister to sanction Institute of Hotel Management for Manali. He also requested the Chief Minister for early sanctioning of Rs. 50 crore maga circuit for Tourism Development of Manali. Govind Thakur also urged the Chief Minister for sanctioning five crore for mettling and tarring of Katrain-Manali road. He said that keeping in view heavy influx of tourist Kullu-Manali road should be four-laned from Neri Chowk to Manali.
Sharab Negi, Deputy Commissioner welcomed the Chief Minister and presented him momento and replica of Hidamba Devi. Earlier Chief Minister Virbhadra Singh accorded rousing reception on his arrival at Manali.
Vinay Dhiman, SDM Manali honoured Karan Singh, Khub Ram, Maheshwar Singh Thakur, Govind Thakur and Ravi Thakur, MLAs, Vikramaditaya Singh, Rameshwari Thakur, Vice Chairperson, Zila Parishad and Chairperson State Women Commission, Roop Chand Negi, Chairman Nagar Parishad Manali, Hari Chand Sharma, Chairman, Zila Parishad Kullu, Dharmvir Dhami, Bhuvnesh Gour, Budhi Chand Thakur, Chairman, District Congress Committee were present on the occasion among others.