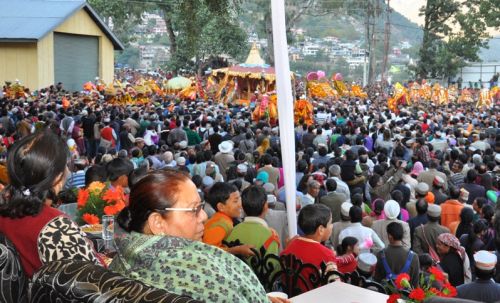 Historic International Kullu Dussehra begins today with fanfare. Urmila Singh, Governor, inaugurated the festival. She also participated in the Rath Yatra of Lord Raghu Nathji at historic Dhalpur Ground of Kullu.
Kullu Dussehra Festival is also celebrated as Folk Dance Festival in which cultural troupes drawn from various parts of the country and abroad participates. More than 200 deities drawn from various parts of Kullu valley have been assembling in Dhalpur ground since the year 1660 in a traditional manner.
Speaking on the occasion, Urmila Singh said that Himachal Pradesh was known as the land of Gods and Goddesses and added that such a deity culture was unique and found only here. She said that the culture of the district was the identity of the Pradesh. She stressed upon the need to preserve the ancient culture of the State and lauded the people of the state who had maintained their identity. She said that this unique culture would go a long-way in promoting the religious tourism in the state. She felicitated the people of Himachal Pradesh on the occasion of Dussehra festival.