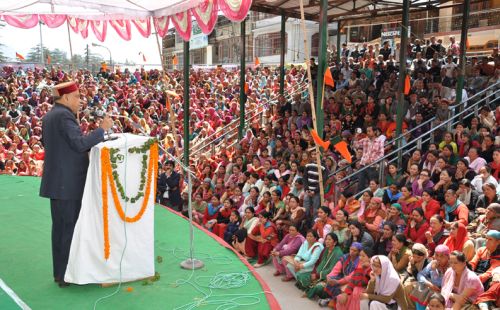 In the Women Awareness Camp at Manali, Chief Minster said that State Government would ensure 33 percent reservation to women in cooperative societies to strengthen the cooperatives in the State. The camp was organised by the Himachal Pradesh State Women Commission.
He said that the State Government had taken effective steps towards women empowerment and had implemented various schemes in this direction. Under 'Beti Hai Anmol Yojna' the Government had increased the deposits in the name of girl child of poor families from Rs. 5100 to Rs. 10,000 at the time of their birth. He said that BJP Government had provided 50 percent reservation to women in Panchayati Raj Institutions (PRIs) due to which tangible results were coming out by empowering women-folk in the process of development.
Chief Minister said that Mother Child Tracking Scheme, Atal Swasthya Sewa, Free Institutional Delivery in Government Hospitals, Mata Shabri Mahila Sashaktikaran Yojna, Mother Teresa Yojna, Kishori Yojna etc. were the few schemes which were being implemented to benefit the women.
He said that under Atal Swasthya Yojna, free ambulance service was being provided for institutional delivery to women. Besides, 50 percent subsidy was being given to poor women of SC families for purchase of LPG connection under Mata Shabri Mahila Sashaktikaran Yojna. He said that it was due to the sincere efforts of the State Government that the female foeticide rate had been reduced and pre-natal sex determination tests had been banned.
Prof. Dhumal appreciated the role of Women Commission in solving the cases pertaining to exploitation of women and had played an important role in making the women aware of their rights. He said that the State Government had constituted various boards to protect the interests of various sections of the society.
Chief Minister said that besides giving leave to working women in government sector on occasion of Bhaiya Dooj, Raksha Bandan and Karva Chauth, the Government had also provided them free travelling facilities in HRTC buses on these occasions. Dhumal said that the social security pension would be enhanced to Rs. 400 in next financial year which is Rs. 330 at present.
Chief Minister said that efforts were afoot to maintain natural grandeur of Manali town and appreciated the efforts of local womenfolk for launching cleansing campaigns to make Rohtang Pass and Solang Nallah free of plastic wastes. He hoped that they would continue their efforts in this direction to preserve the environment.
He honoured women Everesters Ms. Dicky Dolma, Radha Thakur and Dipu Sharma. Besides, he also honoured Bhuvneshwari for winning Gold medals in Cross Country Skiing Competition and South Asian Winter Games. He also honoured Sanjo Devi for clinching Bronze medal in National Women Athletic Competitions and also Ms. Yashodha for winning Gold medal in boxing in 4th Senior Women National Games.
Chief Minister also honoured various Mahila Mandals with cash prize for their active participation in Total Sanitation Campaign and also distributed LPG Gas Stove under Mata Shabri Mahila Sashaktikaran Yojna.
Govind Thakur, MLA welcomed the Chief Minister to his home segment and thanked the Chief Minister for getting Vision Document prepared for Manali. He also thanked for sanctioning polytechnic, Navodaya Vidyalaya, ITI, new Bus Stand for Manali and for providing Rs. five crore for beautification of The Mall, Manali. He also thanked the Chief Minister for upgrading the hospital at Manali, providing Rs. nine crore for maintenance and repair of road from Bhunter to Ramshila, Rs. 12 crore for maintenance and widening of 16 kms Ramshila to Raison road. He expressed gratitude to Chief Minister for granting Rs. 51 crore for Manali Tourism Circuit and for giving approval for setting up of Hotel Management Institute in principle.
Earlier, Dhaneshwari Thakur, Chairperson, State Women Commission welcomed the Chief Minister and thanked him for protecting the interests of women under his patronage. She detailed about the activities of the Commission and said that various women courts were held to provide relief to the aggrieved women and said that such camps would also be held at Sub Divisional level.
Khimi Ram Sharma, Forest Minister, Kishori Lal Sagar, MLA, Ani, Kunj Lal Thakur, former Minister, Chander Sen, former MLA, Trilok Kapoor, Chairman, Wool Federation, Ram Singh, District BJP President, Yuvraj Bodh, Vice Chairman, BJP SC/ST Cell, Bal Mukund, President, Manali BJP, representatives of various Mahila Mandals and senior officers were present on the occasion.