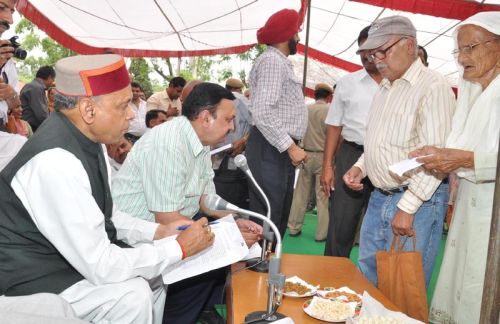 Chief Minister stresses for the better facility for the common people and vowed to strengthen the Lok Mitra Kendras so that various beneficial services started by the government will reach quickly to the people at village level through e-governance system besides solving their other problems through these Kendras. Chief Minister said that the State Government had decided to appoint educated young people of rural areas as 'Vikas Mitra' in every gram panchayat to disseminate information with regard to various people oriented and welfare programmes amongst the stake holders. He said that it would generate employment to 3,243 youth at the gram panchayat level.
Prof. Dhumal said that the State had introduced e-governance concept with a view to bring about efficiency, transparency and accountability in the administrative functioning. He said that various departments were functioning under the programme and had resulted into efficiency in administration. He said that the entire record of different departments was also being computerized and the process was likely to be completed within the shortest possible period of time.
Chief Minister was on Hamirpur visit and he also lays foundation stone of the PHC Building at Bhota that is constructed at the cost Rs. 1.04 crore and he also dedicated Community Bhawan at Harijan Basti in Samirpur village, constructed at a cost of Rs. 5 lakh.