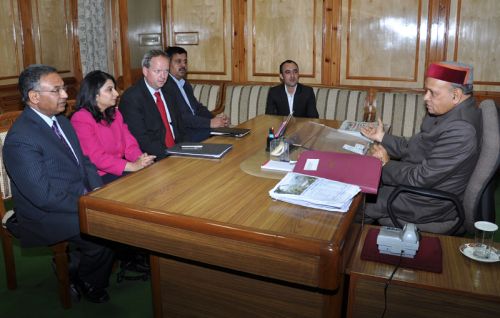 British entrepreneurs would explore possibilities of developing an International Airport, emerge partner in Education Sector and invest in Tourism, Agriculture, Horticulture and Infrastructure Building activities in Himachal Pradesh. This was revealed by Prof. Prem Kumar Dhumal, Chief Minister in a meeting with High-level delegation of British Trade Office authorities of British High Commission in India, led by Shri Paul Grey, Head, UK Trade and Investment and accompanied by Ms. Jane Sanders, Deputy Head, Shri Dalip Sharma, Regional Director, PHD Chamber of Commerce and Industry and Shri Dhian Chand, leading Hotelier in Shimla here last evening.
Chief Minister said that State was keen over development of an International Airport at any one of the suitable places in the State to cater to the traveling requirements of the high end tourists and connect Himachal Pradesh direct with the international flights. He said that State would welcome investment in the sector by British entrepreneurs while State Government would extend all possible help to the developer. He directed the authorities to prepare feasibility report after identification of the appropriate site for the airport. He said that State would also be welcoming investment in Tourism sector where quality infrastructural facilities and development of virgin destinations would be emphasized. He said that since Shimla happened to be the Summer Capital of the British Government during pre-independence era and could be of immense help in strengthening the tourism infrastructural facilities in the State thereby strengthen the sector. He said that additionally the State would also welcome investment in tunnel and ropeway projects proposed for different areas of the State.
Prof. Dhumal said that State would also welcome partnership of United Kingdom universities in collaboration with various universities in public and private sectors so that students studying in those universities were awarded foreign university degrees. He directed the authorities to convene a meeting of all concerned in the near future by inviting representatives from all interested universities in United Kingdom and Himachal Pradesh to explore the possibilities of collaboration. He said that additionally the State was known for quality horticulture produce where farmers were being motivated to go for organic farming which had ready market not only within the country but in international markets. He said that certified organic horticulture and farm products could be conveniently marketed in UK markets where the British entrepreneurs would lend their supportive hand. He said that UK and Himachal could take benefit of technological exchanges to upgrade the farm products to
international standard. He said that State had varied climatic conditions and could produce fruit and vegetable to export to UK markets when such produce was not available for consumers. He said that scientific cultivation and extraction of medicinal herbs could be another field where collaboration possibilities could be explored. He assured the delegation that the State would extend all possible help and make concerted efforts to attract investment by UK entrepreneurs.
Shri Paul Grey, Head of the Delegation, congratulated Himachal Pradesh for the spectacular achievements it had made on different fronts. He offered to develop an international airport, collaborate in education sector and invest in tourism, horticulture and agriculture sector. He said that it was during British regime in India that best education centres were established and the tradition could be revived by making UK Universities partner in education sector. He said that there were varied opportunities available to the entrepreneurs from UK and Himachal Pradesh to collaborate in marketing of their products.
Dr. Arun Sharma, Director of Tourism and Civil Aviation detailed the initiatives taken by the State in the Tourism Sector and presented a set of publications 'Har Ghar Kuchh Kehta Hai' and 'Unforgettable Himachal' Coffee Table books to the visiting dignitaries.