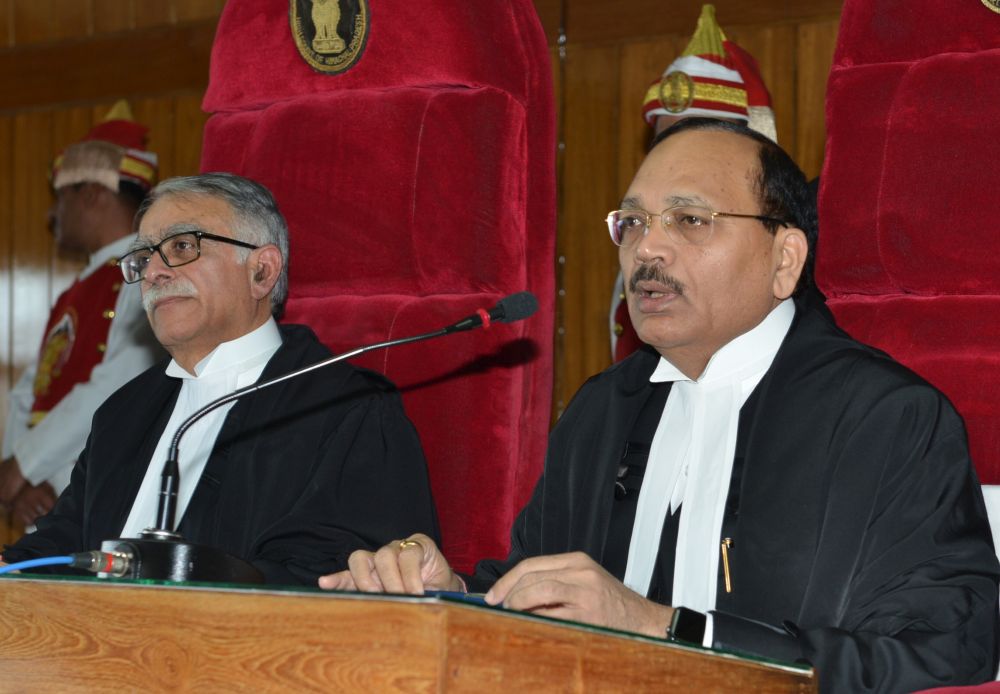 Shimla: Himachal Pradesh Chief Justice Surya Kant stated that in today's scenario, the biggest challenge before the Judiciary was to provide speedy and effective justice. There should be timeline, in which every case should be decided and all stakeholders should work in furtherance of cause, so as to reach that destination, Justice Kant further added in his Full Court welcome address.
Emphasizing on providing justice to the poor and needy, he said that the existence of the Bar and Bench would be meaningful only when they were able to wipe out the tears of poor person.
He said that despite Himachal being a small State, we should strive hard and concentrate on the quality of justice.
On the reference of his being termed as the "Dravid" of his team, by the Chief Justice of Punjab and Haryana High Court, he said that he would rather like to go as opener daily and come out in the evening as "unhurt" and "not out". He thanked the fellow Judges and Bar for extending a warm welcome to him.
Earlier, a Full Court welcome address was held in the High Court today to welcome Justice Surya Kant, after he assumed the charge of the office of the Chief Justice of High Court of Himachal Pradesh. Registrar General Rajeev Bhardwaj conducted the proceedings. Judges of H.P. High Court Justice Sanjay Karol, Justice D.C. Chaudhary, Justice Tarlok Singh Chauhan, Justice Sureshwar Thakur, Justice Vivek Singh Thakur, Justice Ajay Mohan Goel, Justice Sandeep Sharma and Justice Chander Bhusan Barowalia were present on this occasion.
Justice Sanjay Karol welcomed Justice Surya Kant on assumption of charge of the Chief Justice and said that Justice Surya Kant was a warm, affectionate and simple person and he and the High Court of H.P. was feeling privileged and honoured to have such a brilliant Chief Justice and compassionate environmentalist.
Justice Karol said that his unparalleled contribution in the field of dispensation of justice, ultimately led to his elevation at a relatively young age, as a Judge of High Court of Punjab and Haryana and his contribution in every sphere had been immense and the judgments rendered on various aspects, including constitutional issues were well known.
Advocate General Ashok Sharma, Chairman of the Bar Council Rama Kant Sharma, President of H.P. High Court Bar Association Rajeev Jiwan and Additional Solicitor General of India Rajesh Sharma extended warm and cordial welcome to Justice Surya Kant.
Former Judges of High Court of H.P, Justice (Retd.) V.P. Bhatnagar, Justice (Retd.) A.K.Goel, Justice (Retd.) Kuldip Singh Kanwar, Justice V.K. Sharma, Chairman, H.P. Administrative Tribunal, Justice P.S. Rana, President, H.P. State Consumer Disputes Redressal Commission, former Judges of Punjab and Haryana High Court, Registrars of H.P. High Court, large number of dignitaries from the Punjab and Haryana High Court, Bar and Staff members among others were also present on the occasion.
The Guard of Honour was also presented to the Chief Justice in the High Court premises before the Full Court Welcome Address.