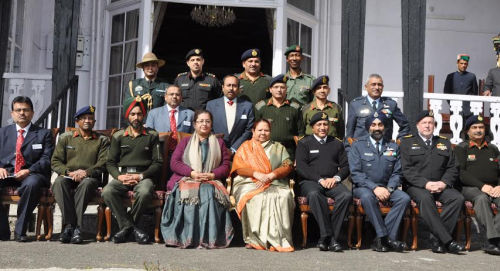 Shimla: A delegation of fourteen officers from National Defence College New Delhi called on Governor Urmila Singh at Rajbhawan here today. Delegation was headed by Rear Admiral R. Gaikwad.
Interacting with the officers, Singh said that Himachal Pradesh was a progressive state and added that despite its tough geographical conditions, the state had witnessed tremendous progress in every sphere. She also appreciated the progress in various sectors especially Agriculture, Horticulture, Panchayati Raj, Education etc.
Governor said that Himachal Pradesh was known as Devbhoomi and the state had preserved its rich cultural heritage. The 'Dev Parampara' was a unique feature of the culture of the state which could be witnessed in its various fairs and festivals, she said. She appreciated simple and hardworking people of the State and added that women were also empowered and were contributing significantly towards the progress of the state.
Governor also shared her experiences during her tenure as Minister in Madhya Pradesh and as Chairperson of National Commission for Scheduled Tribes with the officers.
She also interacted with the officers representing Australia, Nigeria and Saudi Arabia who were part of the delegation and discussed about Panchayati Raj system in their countries.
Poornima Chauhan, Director Himachal Institute of Public Administration spoke about various schemes of the Government during the interaction.
Rear Admiral R. Gaikwad apprised the Governor about the objectives of the eleven month course being attended by the officers at National Defence College New Delhi. He informed that officers from Army, Navy, Airforce, IAS and IPS besides officers from armed forces of Australia, Nigeria and Saudi Arabia were participating in the course.