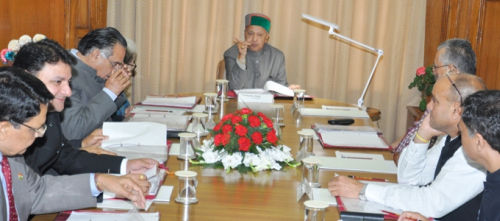 The Himachal Pradesh Cabinet which met here today under the chairmanship of Chief Minister Virbhadra Singh decided to reduce the minimum bus fare from Rs. five to Rs. three up to three kilometers in the public interest.
The cabinet accorded approval for the award of balance work of widening and strengthening of Theog-Kotkhai-Hatkoti-Rohru road in Shimla district.
Cabinet approved institution of Himachal Pradesh Mahila Vikas Protsahan Yojana-2013. Under the scheme, bonafide Himachali women aged above 18 years of age will get cash prize of Rs. 21,000 along-with a citation for making outstanding contributions in the field of Health, Education, Sports, Social Service and Art & Culture. The Chief Minister had made announcement in this regard on International Women Day function on 8 March, 2013.
Approval was granted to permit admissions in various courses B.Tech (including Bio-Tech., Food-Tech. and Bio-Info.), M.Tech., B-Pharma, M.Pharma and MBA and Diploma courses made by various private universities, colleges and polytechnics in accordance with the minimum educational qualification prescribed by the All India Council of Technical Education (AICTE) and concerned regulatory bodies up to 15 August, 2013 as one time measure in the larger interest of students/parents. The approval has been granted subject to imposition of penalty under relevant provisions of law by respective regulatory bodies.
It gave approval for amendment in development plan for Dharamshala planning area by designating the Director, Town and Country Planning as the Competent Authority for permiting change of land use for restricted and other areas of the Development Plan for Dharamshala Planning Area.
The Cabinet approved to accept the proposal of Government of Uttar Pradesh for payment of Rs. 157 crore against power sold to them with late payment surcharge payable at the rate of 6 % on the principal amount.
Cabinet decided that all creation & up-gradation of administrative divisions shall remain with the General Administration Department (GAD).
It decided to upgrade the post of Chief Engineer (Project) in Irrigation & Public Health Department to the post of Engineer-in-Chief (Project) to be located at Shahpur in Kangra district.
Approval was also granted to amend and frame new recruitment and promotion rules for the post of Joint Labour Commissioner (Gazetted Class-I) in the Department of Labour and Employment.