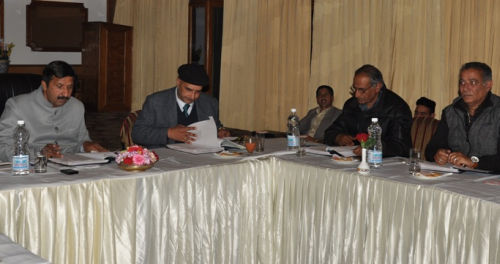 The 187th Meeting of Board of Directors of Himachal Pradesh General Industries Corporation LTD. (GIC) was held here under the chairmanship of Mukesh Agnihotri, Industries Minister.
While welcoming the newly nominated non-official directors in the Board of Directors of GIC, Agnihotri revealed that the Corporation has earned a profit of Rs 361.48 lakh during the current financial year upto February, 2013. He said that the Corporation had fixed a target of sale at Rs 34.12 crore for the year 2012-13. He said that the GIC should diversify its activities by exploring new areas.
The Board also gave its consent to allow GIC to sell 500 kg Silk yarn and for various welfare initiatives for the employees of the Corporation.
Dr Biru Ram Kishore, Vikas Kapoor, Pawan Thakur, Satpal Thakur, Ram Swaroop Sharma and Sanjiv Sani non-official directors in the Board of Directors of GIC also gave their valuable suggestions.
JS Rana, Managing Director, GIC conducted the proceedings of the meeting. Dr P.C.Kapoor Additional Chief Secretary, Industries, Mohan Chauhan, Director Industries, Rajesh Sharma Special Secretary Finance were present in the meeting among others.