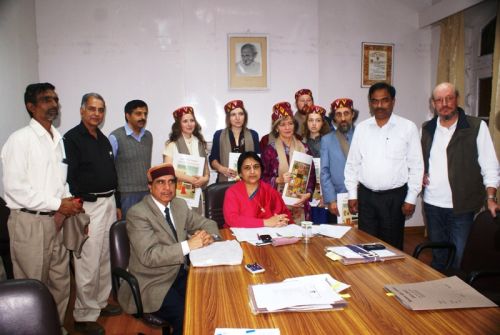 The Government of Himachal Pradesh and International Centre of Roerich, Moscow today signed an Act of Transfer of Stock and Inventory with respect to the heritage, in Executive Committee meeting of International Roerich Memorial Trust (IRMT) here today in the presence of Manisha Nanda, Principal Secretary, Language, Art and Culture who is also General Secretary of IRMT and Dr. Larisa Surgina, IRMT curator from Russian side.
The Act was signed by Rakesh Kanwar, Director (LAC) & Member Secretary, Executive Committee, IRMT, Amitabh Awasthi, Deputy Commissioner, Kullu, Dr. O.C. Handa, IRMT Curator from the Indian side and Sergey Karmalito, Senior Counsellor, Embassy of the Russian Federation and Dr. Dmitry Chelyshev, Counsellor (Culture), Embassy of the Russian Federation in India.
In all 8126 units have been documented including 37 paintings by N.K. Roerichs, 12 paintings by S.N. Roerichs, 1586 units of memorial objects, 1736 books and journals and 3070 units of herbarium collections. The detailed inventory in nine parts was presented by the team members before the Executive Committee, which was appreciated by all.
It was decided to have full time Administrator in IRMT, Naggar, Kullu. Dr. O.C. Handa, IRMT Curator from the Indian side was recommended for approval of the President of "Board of Trustees". Dr. Larisa Surgina was also recommended for appointment as Curator from the Russian side. The Indian Curator was advised to start work of repairs of buildings in the vicinity of IRMT, Naggar. Deputy Commissioner, Kullu was also directed to provide assistance in getting the orchards revived with the help of the Horticulture Department. It was also decided that the Draft MoU for further mutual cooperation will also be discussed/signed between the ICR, Moscow and the IRMT, Naggar.
Later, the seven member team called on Chief Secretary S. Roy, who appreciated the efforts put in by them in accomplishing this tedious task and assured further co-operation and assistance for fulfilling the vision of N. Roerich in Kullu valley.